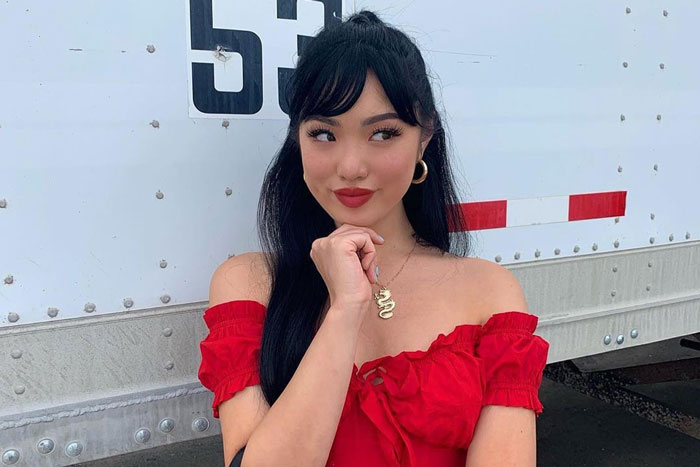 Feature Image by @bbyambi
You never know when it'll strike. You're looking in the mirror and you come to an earth-shattering realization: you're completely dissatisfied with your look. Maybe you've been weathering a breakup. Maybe quarantine has finally made you insane. Whatever the reason, you think "I need to change up my look ASAP."
But before you place an emergency call to your hairdresser begging for a full chop (why do we always go for the hair?), take a step back and consider these low-commitment, high-impact products to switch up your look instead.
Be-freckle yourself with this Instagram must-have, which allows you to create a variably speckled visage on a whim. Just dip the brush, dot the face, and tap with fingers to spread. Wash and repeat daily, changing up the pattern each time!
---
For those of you who have not given in to the tiny quarantine devil on your shoulder telling you to just cut your own bangs, we salute you. Reward yourself with these convincing clip-ins from Insert Name Here. Just clip them in and voila — you've got yourself a full set of bangs.
---
Even if you don't need corrective lenses, high-quality, stylish frames with non-prescription lenses from Warby Parker can make quite the statement.
---
If you've ever seen photo round-ups of your favorite celebrities without eyebrows, you know what big of a difference brows make. Using products like these precision-oriented pens and fluff-enhancing gels to change your brows fullness and shape can give you a lot of transformative bang for your buck.
---
Whether you want to brighten up your natural eye or add feathery drama, false lashes are a fabulous way to embolden your look. You could go with expensive, high-maintenance extensions, but why? With thousands of 5-star reviews, dozens of options, and latex-free lash glue (sold separately), there's room for everyone in the House of Lashes.
---
You might not realize the impact your hair part has on the look of your hairstyle — or your face! We're here to change that. This comb's extended rat tail construction provides perfect precision, no matter which way you toss your tresses.
---
When you think about ways to modify your look, it's typical to think from the neck up, but that doesn't mean you should discount the ability of a fresh set of nails to make you feel put together. To avoid salon-level commitment, check out these press-ons (and tips on how to apply them properly).
---
These are not the drugstore temporary tattoos of your youth. Designed by real artists, Tattly tattoos are safe and non-toxic, printed with vegetable-based ink, and will give you two to four days of wearable art, wherever you want to put it!
---
Want to experiment with makeup but don't want to commit to purchasing products just yet? Use YouCam to play with different looks (even virtually try on products from real brands) and save your favorites so you can purchase the real deal when you're ready.
xx, The FabFitFun Team