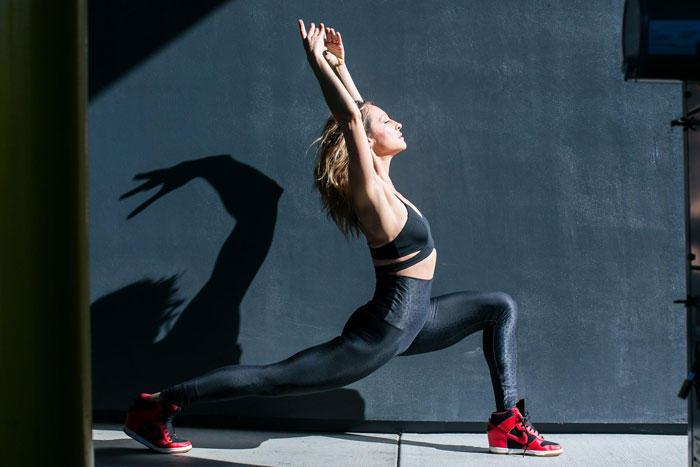 Feature Image by Barre Belle
WINTER 2018 FABFITFUNTV PARTNER
If you love the intensity of deep yoga stretches and the excitement of dance yet still crave targeted strength-building core moves, Barre Belle is about to become your new go-to workout.
Marnie Alton, the founder of Barre Belle, fused her experience with dance (she began at the age of eight!) and her love for barre to create a workout regimen that helps build your strength and flexibility while boosting your confidence from the inside and out (and who doesn't want that?).
So what inspired her to create Barre Belle? How is it different from standard barre workouts? Alton shares everything you need to know before you try out her workouts on FabFitFunTV.
How did you first discover your love for fitness and health?
I have always struggled with my weight and body image. Being a dancer, I was forever insecure about not being tall and slim. For years it just felt like a fight to get the weight off for all the wrong reasons. I fell in love with fitness when I found barre. I remember it so clearly – it was 2005 and I had just moved to Los Angeles. Nobody knew what this new workout was, but having been a dancer, it all just made sense to me. I loved how it focused on elegance, strength, and grace. I've never looked back.
What makes your workout method unique?
I worked extremely hard to make sure our 60-minute class would address all the pillars of fitness: cardiovascular, strength, and flexibility training. I had been looking for something that could do this for so long (so I wouldn't have to keep taking a million different classes) and when I couldn't find it, I decided to create it. On top of the physical, we work to help clients quiet their minds and truly connect to themselves in the moment. I believe that a full body workout includes the body, mind, and soul.
View this post on Instagram
What should a first-timer be prepared for when trying your workout?
To step out of their comfort zone. My workout is designed to be challenging but also accessible. It's about being in the moment, having a conversation with your body, [and] learning what it needs to do to achieve your goals. I'm asking people to dig deep and be as present mentally as they are physically.
Any client success stories?
Oh my goodness, there are so many! I spent years researching and designing my workout so that it would have maximum effect on the body quickly, and it's been so exciting to see that happen over and over again for hundreds of people in the studio. That being said, what truly brings me to tears is the number of women who have been changed in other areas of their life too. This practice has helped heal physical and emotional discomforts as well as providing a sense of support during tough times. Seeing wellness and confidence shine from the inside out is the true success to me.
View this post on Instagram
Share three ways Barre Belle will up anyone's fitness game.
1. It will make your body leaner and stronger.
2. Your heart and lungs will get healthier.
3. You'll get more flexible and be able to move through the world with more confidence.
From a full body barre series to a stretch and flow meditation, you can try exclusive Barre Belle workouts now on FabFitFunTV. Not a member yet? Sign up today to access 600+ fitness, cooking, and lifestyle videos.
xx, The FabFitFun Team