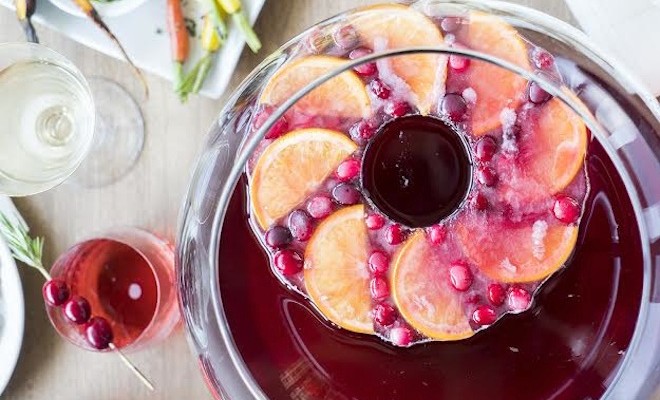 Let's be real: once Halloween is over, holiday season is unofficially in full force.
And we're not complaining, because we're all about planning out our menus and prepping special cocktails this season. So when we heard Ayesha Curry (only our ultimate NBA wife girl crush) teamed up with Williams-Sonoma's Culinary Director Amanda Haas to create a boozy punch, we had to add it to our holiday dinner menus.
This Cranberry Tequila Punch is served with a floating frozen ice ring to keep it chilled all night long. Not only is it delicious, but it's also sure to be a slam dunk (we had to) at your nexy holiday party. Cheers!
Cranberry Tequila Punch recipe courtesy of Ayesha Curry and Williams-Sonoma Culinary Director, Amanda Haas
Ingredients
6 cups each chilled bottled apple juice and cranberry cocktail, divided
1 large orange, halved lengthwise, then thinly sliced crosswise
1 1/3 cups fresh cranberries, divided
2 cups gold (100% agave) or reposada (aged) tequila
1 cup orange-flavored liqueur, such as Grand Marnier or Cointreau
2 bottles sparkling wine, such as Prosecco
10 to 12 fresh rosemary sprigs
Directions
1. Make ice ring (up to one week ahead of time): Pour 1 cup each of apple and cranberry juice into an 8 to 9-inch bundt or ring mold. Add half of orange slices in a single layer and about 1/3 of cranberries. Freeze until firm (at least 3 hours)
2. Set aside 24 to 36 cranberries for garnish. Pour remaining berries into mold, then add remaining orange slices. Fill with another 1 cup each apple and cranberry juices. Freeze until solid (at least 3 hours)
3. Just before serving, mix remaining 4 cups of each juice with tequila, orange liqueur, and sparkling wine in a large bowl or pitcher. Remove mold from freezer and invert onto a plate. Run bottom of mold under warm water for a few seconds until it releases. Slide ice ring into a punch bowl fruit side up. Fill bowl with punch
4. To serve, skewer each reserved cranberry with a toothpick to make a hole. Strip 2/3 of leaves from bottom of rosemary sprigs, then slide 2 or 3 cranberries on each sprig. Fill glasses with punch and set a sprig in or across each glass
xx, The FabFitFun Team