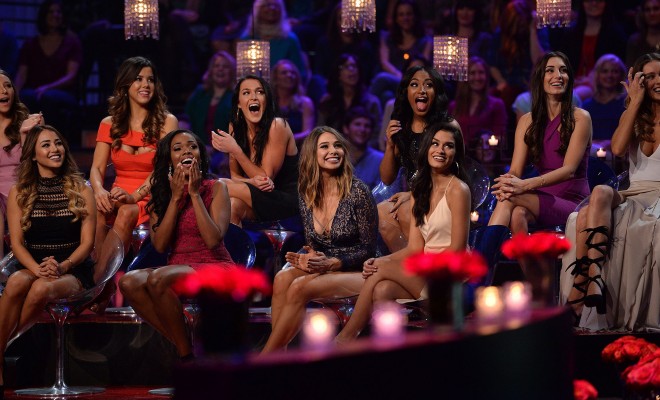 THE BACHELOR – "Episode 2111 – The Women Tell All" – Tempers flare and there are plenty of fireworks, as 19 of the most memorable women this season are back to confront Nick and tell their side of the story. There were highs and lows during Nick's unforgettable season – and then there was Corinne, the most controversial bachelorette of the group. The very self-confident Corinne, who has been the woman viewers and the other bachelorettes have loved to hate, returns to have her chance to defend herself. Rachel, the recently announced new Bachelorette, shares some insight into how she plans to handle her search for love. Danielle L. and Kristina attempt to get some closure to their sudden and heart-wrenching break-ups. Then, take a sneak peak at the dramatic season finale and Nick's final two women, on "The Bachelor: The Women Tell All," MONDAY, MARCH 6 (9:01-11:00 p.m. EST), on The ABC Television Network. (ABC/Michael Yada) DANIELLE L., CHRISTEN, JASMINE G., ALEXIS, SARAH, DOMINIQUE, TAYLOR, ASTRID
If there's one thing we learned from last night's episode of The Bachelor followed by the special Women Tell All, it's that chambongs are a thing that exist. And we need one.
Of course, there were plenty of other noteworthy moments in the three hour Bachelor special, like Raven's Age of Aquarius moment…
Naturally, we were also treated to Corinne vs. Taylor Round II (spoiler alert: Corinne wins again), and Liz's teary women empowerment speech.
Ashley Iaconetti broke it all down for us in her Snapchat recap. Check it out and don't forget to add username: FabFitFun to tune in for the finale next week!
xx, The FabFitFun Team