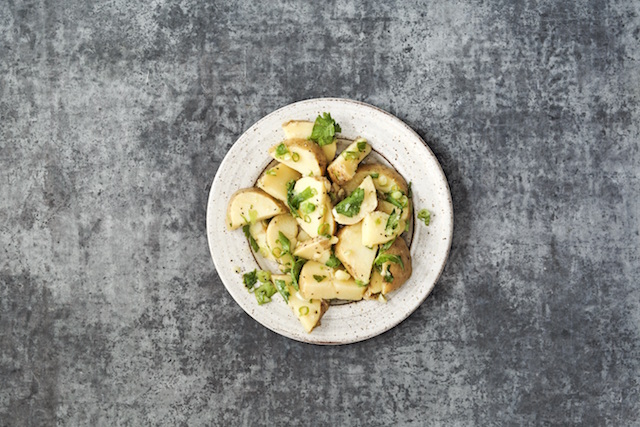 BBQ parties and picnics at the park are def some of the highlights of summer. Whether you're attending a friend's pool party or a family get-together, it's always polite to bring food (or booze!) to the table.
Healthy food alternatives can be tricky. You want to bring something that won't derail all of your healthy eating and hard work in the gym, but you want to also make sure that everyone will enjoy the taste.
You all know about that famous Mediterranean Diet, yes? Well we found a restaurant that pretty much has all the food options you'll ever need when being on said diet. Yalla Mediterranean offers healthy, flavorful food that caters each menu option to your personal needs, and we just had to get the recipe for their bright and crisp Greek Potato Salad!
The salad is a healthier alternative to the classic due to its lack of mayo, but is still packed with herbaceous flavor. Plus, it's practically the easiest side dish you can make, and best believe people will be asking you for the recipe!
Greek Potato Salad
Ingredients
3.5 pounds sliced and steamed Yukon potatoes
3/4 cup extra virgin olive oil
3 ounces Red Wine Vinegar
1 bunch sliced green onions
1/2 cup chopped parsley
1 tablespoon kosher salt
1 tablespoon black pepper
Directions
1. Put potatoes in a large pot of salted (1/2 cup salt) water (enough to cover) and bring to a boil. Once the potatoes come to a boil, turn down the heat to a medium simmer, and cook until just tender, about 25 – 30 minutes. Drain and let cool.
2. When the potatoes are cool, quarter and slice them into 1/2 inch slices.
3. In a mixing bowl, add potatoes and the rest of the ingredients and toss well.
4. Chill and serve.
xx, The FabFitFun Team