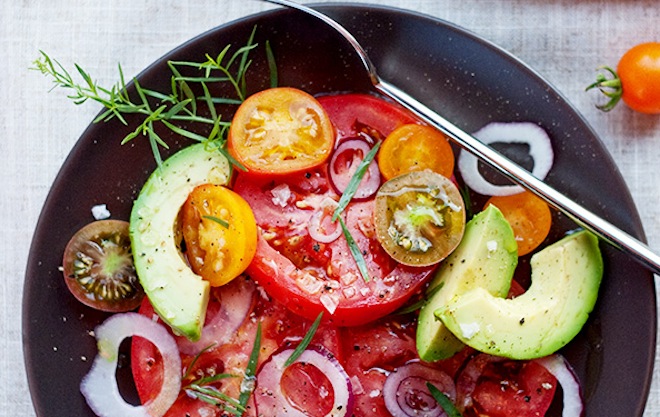 Veggies aren't for everyone — but they're so healthy and provide you with essential nutrients, so you need to find some way to incorporate them into your diet.
Luckily, we found eight flavorful vegetable recipes from grilled romaine to baked zucchini fries that'll have you craving more. Even those who aren't particularly fond of vegetables will become fans of these uh-mazing dishes.
Asparagus, Tomato and Feta Salad w/ Balsamic Vinaigrette
Asparagus is not only tasty, but it's also hydrating. This miracle vegetable packs in a whole lot of nutrients and naturally hydrates the body, so be sure to fill up on this dish after one too many margaritas.
---
Avocado, Onion and Tomato Salad
Fresh tomatoes, avocado, and onion make this salad a perfect one to pair with grilled chicken for a healthy summer meal.
---
Baked Cheesy Ranch Zucchini
Say goodbye to french fries and hello to zucchini fries! These delicious and tasty veggie fries will barely have you missing those starchy potatoes because they taste that good.
---
Watermelon Strawberry Tomatillo Salad
If you love sweet and savory, this recipe will become your go-to salad this summer. With a spicy tomatillo kick and sweet hints of strawberries and watermelon, this salad will be a hit at your next BBQ.
---
Spinach Parmesan Zucchini Noodles
All right, so we know that pasta is off the list this summer. That's why we're opting for the next best thing — zucchini noodles or zoodles. These stringy veggies are the perfect healthy alternative to eat, without all of the carbs.
---
Chili Lime Sweet Corn Salad
Need a spicy side to pair with your tacos and margaritas? This chili lime corn salad is the most delicious topping or salad to eat this summer. With only a few ingredients, you can whip this salad in no time.
---
Crispy Vegetable Fritters
Need a crunchy yet satisfying appetizer? We are loving these crispy vegetable fritters — pair it with hummus or a healthy dipping sauce, and you have a guilt-free snack!
---
Grilled Romaine Salad with Corn and Avocado
While we love ourselves a hearty romaine salad, we are loving grilled romaine even more. Who would have thought you could grill fresh romaine? This warm dish is the perfect salad to serve with grilled lean steak or on its own.
xx, The FabFitFun Team