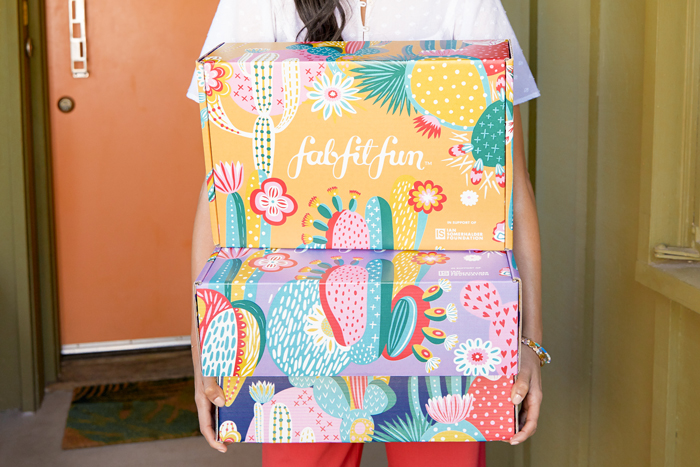 SPRING 2019 BOX PARTNER
How gorgeous is the Spring Box design? Helen Dardik, a Canadian designer and illustrator, reveals her design process and how a recent trip to Arizona inspired the intricate graphics.
Did anything in particular inspire the design?
I am often inspired by books and magazines from my childhood, by color combinations I accidentally spot on my way home from the park, or by random and abstract thoughts. The inspiration for the Spring Box design comes from my trip to Phoenix last January – Arizona, with all [of] its succulents, was beautiful and alien at the same time.
Can you walk us through the design process?
First come [the] ideas. Ideas for the Spring Box were all about the contrast between desert and blooming cactuses. Once the outside pattern started taking shape, the inside pattern concept was imagined. Lastly, it was time to experiment with color. That is truly the most fun part of the process.
What has been the most rewarding part of your design career?
Seeing something that has started as a small idea inside my head come to life and become something that people would see and use.
What are you most excited about for spring?
Late spring is my favorite season. It's time for rebirth and rejuvenation, time for nature to bring back the colors, and [for] people to put away the neutral coats and pull out a cheerier wardrobe. I love the sound of the snow melting from the roof and the promise of warmth and freshness.
xx, The FabFitFun Team
Psst! Have you signed up for FabFitFun yet? Don't miss out on $200+ in amazing beauty, fitness, fashion, and lifestyle products, access to exclusive fitness and cooking content on FabFitFunTV, members-only sales, and more. Join today!
To get the most out of your box products, make sure to check out the Insider page.