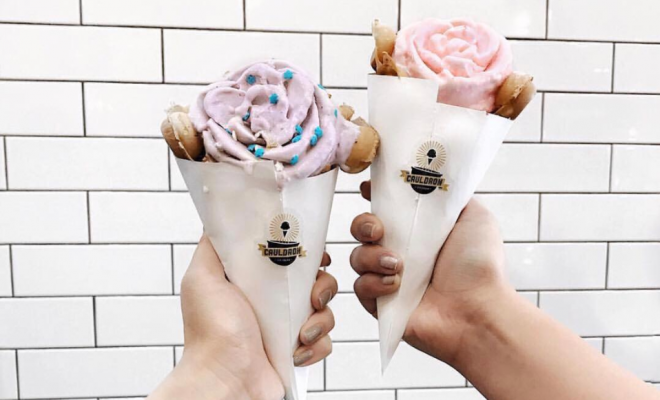 @cauldronicecream
It cools us down on hot days. It comforts us when we're heartbroken. It reminds us of childhood, of summer dates, and that sometimes — it's OK to treat ourselves.
Yep, we're total ice cream lovers. And we're not alone! These accounts post pictures of our favorite dessert that will give you major eye candy on your daily scroll.
Here's the scoop on 10 of our fave accounts!
@museumoficecream
If you live in LA, or have friends that live in LA, chances are you've scrolled by a few sprinkles pools and giant gummy bears. Since opening earlier this year, the Museum of Ice Cream has been a popular destination for those who not only want to eat, but also want to immerse themselves in all things ice cream. Follow for glimpses of a place where ideas are transformed into real life experiences, a place where flavors are mysteries, toppings are toys, and sprinkles make the world just a little bit better.
---
@amorinousa
This gelato brand has a lot'o style and class! Their rose petal cones are almost as pretty as (and way tastier than) real roses, and their perfectly packaged macarons make a great gift for that special someone with a sweet tooth. Their feed is like a fancy dessert bar — so feast your eyes!
---
@little.damage
Not a rainbow frapp kind of girl? Little Damage is the perfect ice cream shop for the edgier dessert lover. If the neon "I licked it, so it's mine" sign doesn't do the job, the menu of Dark Cinns, Unicorn Tears, and Salted Covfefe is sure to lure you in to the dark charm of Little Damage.
---
@eisweltgelato
It's an ice cream zoo! These ice cream pandas, bunnies, pigs, and little Pikachus are almost too adorable to eat. But just adorable enough to look at (and try to mimic with your tub of Dreyer's at home).
---
@scoopsies
Scoopies has all the unique and delicious ice cream flavors you ever dreamed of. From Sage Salted Oreo to Beer Caramel & Cornbread…we want it all!
---
@softswervenyc
Forget your boring ol' cookies and cream. Famous for their ube (purple yam) soft serve, this NYC ice cream shop goes above and beyond with flavored cones and colorful toppings.
---
@cauldronicecream
This eye candy of a confection is called the OG Puffle. It's made with Hong Kong's traditional egg waffle cone stuffed with ice cream. It's like bubble wrap you can pop…with your mouth.
---
@binghaus.sd
Roll with the trends — by rolling your ice cream! This way of serving ice cream is different and interesting, and for some reason, so aesthetically pleasing. Especially with those toppings. Not only that, this coffee shop also serves delicious soft serve in a fish-shaped cone. Yum!
---
@taiyakinyc
Taiyaki? More like Taiyummy. This is a modern take on a traditional Japanese dessert that gives it an unforgettable look. The baked fish-shaped waffle serves as a cone for colorful soft serve. You'll be wishing you were walking through the streets of New York with one of these in your hand.
---
@crescendoicecream
The nitro ice cream trend is taking over, but the innovation doesn't stop there. Crescendo's menu boasts unique and beautiful concoctions like the artist palette and Hot Cheetos dipped ice cream. Follow to see what else they have up their sleeves!
xx, The FabFitFun Team