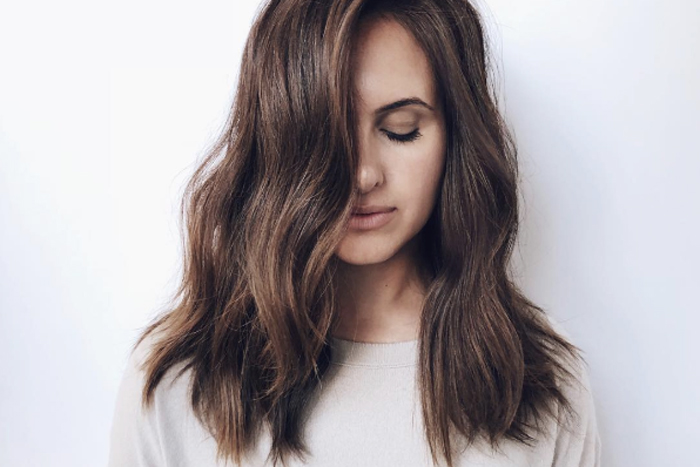 Feature Image by @kristin_ess
When our motivation is basically nonexistent due to subzero temperatures in the winter and we're living under layers of wool, we rely on our tresses to elevate our look.
So to keep our hair looking hot even when it's freezing, we asked industry experts to share which winter hues are worth trying to curb the winter blues. Here's what they said:
View this post on Instagram
Au Naturel (Kind Of)
"Natural color is making a comeback for winter, but when I say natural, I'm talking about a more natural, seamless blend of hair color. The best way to achieve this is by picking a traditional single process base color like neutral, gold, ash, and copper, then [adding] freehand highlights to give an overall refined and sophisticated take. Freehand highlights tend to be more subtle and natural looking," says George Papanikolas, a celebrity stylist at Matrix.
---
View this post on Instagram
Halo Effect
"Halo coloring is applying subtle highlights around the frame of your face, which allows the crown of your head to stay a bit darker. I love this option for winter because it works for blondes who don't want to feel super light and for brunettes who just need a hint of lightness to make their skin tone pop," says Tiffanie Richards, master colorist of Nunzio Saviano Salon.
---
View this post on Instagram
Glossy Contoured Blonde
This is the perfect look for people with fine and fragile hair because it's ammonia-free, which is gentler than most dyes, revitalizing strands and offering a low-maintenance yet beautiful color. "For this look, I do two glosses – a lighter, less pigmented one for the hairline and ends and a deeper one for the root, creating a more lived-in effect. This will last you through the seasons and requires minimal touch-ups," explains Felicia Dosso of Nunzio Saviano Salon.
---
View this post on Instagram
Living Coral
"For a more wearable but still bold shade, living coral will be another big winter hair color trend. Pantone chose this shade for its 'life-affirming coral hue with a golden undertone.' It's an edgier version of the pastel pink or rose gold shade we've seen for a few years while still being easily wearable. The gold undertone enhances every eye color (blues and greens pop while browns look warmer) and softens all skin tones," according to Stephanie Brown, an NYC master colorist at Eddie Arthur Salon.
---
View this post on Instagram
"Bronde" Baby Lights
"Regardless of the season, my brunettes want to stay brunettes. However, they tend to get bored with one solid color, especially in the winter when their hair feels darker. 'Bronde' (a mix of brown and blonde) baby lights are my go-to for creating some dimension in their hair. These finely-weaved highlights are perfect for brunettes because the outcome is a softer golden look as opposed to a heavy highlight on a darker base, so it doesn't feel so extreme," says Dosso.
Hate your haircut? Check out four things you should do before you freak out.
xx, The FabFitFun Team