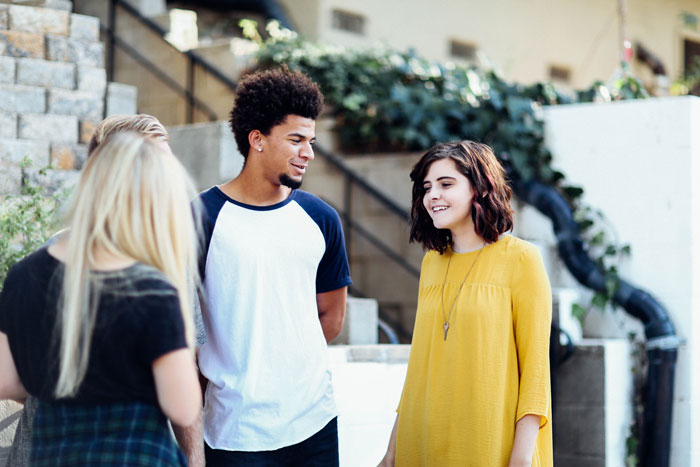 Feature Image by Alexis Brown
Humans are social animals. We need to communicate, interact, and feel like we're making connections. We crave the freedom of expression partly because we want to feel understood and seen – to feel like we're a part of something larger than ourselves.
But being able to communicate your complexities and a fully unadulterated image of yourself to the world is difficult, which is a big reason why small talk can feel unbearable at times. By definition, small talk is menial. It often lacks in originality and can feel like you're not communicating anything of value. In essence, you're choosing what to say based on what will put others at ease, not what's most expressive, interesting, or true.
So if we hate it so much, why do we continue to do it? Well, small talk is still a form of communication in a social sense. You aren't signposting your goals or expertise, but you're still sending and receiving social cues.
Reframed in this way, small talk is actually a fascinating and useful tool to help get you to the bigger, more important stuff. You're talking about the weather and the other person mentions she thinks her workout boot camp will get rained out later. Note to self: she likes to exercise outdoors. You bump into an acquaintance and he mentions he's running late and needs to get to his vet. The next time you see him, you can ask if his pet is alright.
Small talk is truly the base representation of who we are: social animals who need to make connections in order to feel a sense of belonging. It's the perfect opportunity to discover Easter eggs about someone's life or personality. It's all valuable information that will help you build rapport, learn about the people around you, and help those people understand you a little better.
xx, The FabFitFun Team