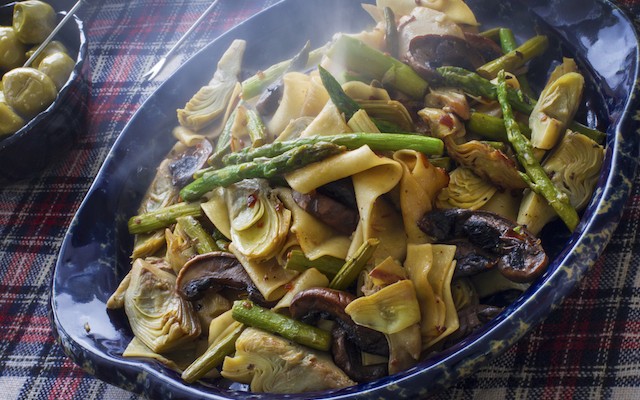 We're bringing the heat this new year with a spicy pappardelle pasta recipe loaded with chunks of artichoke, mushrooms, and green asparagus. It's so good you'll never miss eating meat again!
We love using a simple sauce when we want the other ingredients to shine — and this one packs just the right amount of spice. If you're nervous the recipe will be too hot for your liking, simply reduce the amount of spice you add to the sauce.
(P.S. The benefits of capsaicin found in chilies can actually aid in weight loss, so this recipe is a great way introduce peppers in your diet for a healthy start to the new year.)
Artichoke Pappardelle Pasta
Ingredients
8 ounces pappardelle pasta
1/4 cup pasta water
1/3 cup extra virgin olive oil (for sauce)
1 tablespoon extra virgin olive oil (for vegetables)
1 teaspoon butter
4 cloves garlic, minced
1/2 teaspoon crushed red pepper flakes
1 teaspoon chili sauce
1 1/2 teaspoons sea salt or kosher salt, add more or less depending on preference
1 can water-packed artichokes, drained, rinsed and cut into quarters
1/2 cup mushroom, sliced
1 cup asparagus
Directions
1. Cook pasta according to package, and reserve 1/4 cup pasta water when finished.
2. In a large sauté pan, add 1 teaspoon butter with 1 tablespoon extra virgin olive oil, then add in mushrooms, asparagus, and salt and pepper to taste. Sauté for 5-7 minutes until veggies are tender.
3. Add in the artichoke to vegetables and let cook for an additional 3 minutes. Set veggies aside when done.
4. In another large sauce pan add 1/3 cup of olive oil and garlic and sauté for 1-2 minutes. Make sure not to burn garlic, so continuously stir.
5. Add the reserved water, crushed red pepper flakes, chili sauce and 1 1/2 teaspoons of salt. Let heat for about one minute, then toss in pasta and veggies to combine ingredients together.
xx, The FabFitFun Team