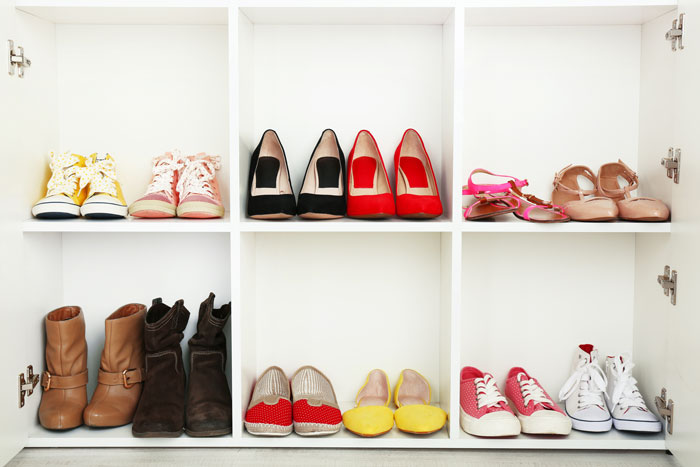 If you're not regularly cleaning out your shoe rack, you might be doing more damage to your feet than good. But when exactly should you toss your favorite pumps or sneakers?
From checking the tread to examining the straps, here are all the things to check for:
Look at the arch
Arch support is vital for your feet! Without proper support, you can cause pain to your feet, lower back, hips, knees, neck, and shoulders. The arch, which is the area below the ball of the foot and the toes and all the way down to the heel, requires a thick, supportive cushion (almost like a helmet for your head!). You can check the arch by folding the shoe completely in half. If you're able to do so, the arch support is gone and it's time to toss those shoes.
Check the tread of your shoes
This tip particularly applies to your favorite running shoes and sneakers. Just like the tread on a tire, tread on shoes is necessary for traction and to prevent you from slipping. If the tread is worn down, then you're more likely to slip and fall.
Examine the straps
This applies to your flip flops, sandals, or favorite strappy heels. If straps are worn, stretched, or broken, then it's time to replace it. Think of straps as like your feet's seat belts — you don't want to take those shoes out for a spin without proper safety measures.
Assess the condition of the heel
Wobbly and damaged heels are a huge red flag that your shoes are reaching its expiration date. Heels that have developed a sharp angle are a good indicator of whether you under or over-pronate your feet when walking.
Test the midsole
Look for wrinkles or indentations in the sole as another assessment of your shoe's cushion. You can test it by placing one hand inside the shoe and one at the bottom of the sole, then move your hands toward each other, and there should still be some cushion between your hands. If not, it's time to toss 'em.
Check for fit
Feet can change and grow over time, so it never hurts to try on old shoes to make sure it's still a good fit.
xx, The FabFitFun Team