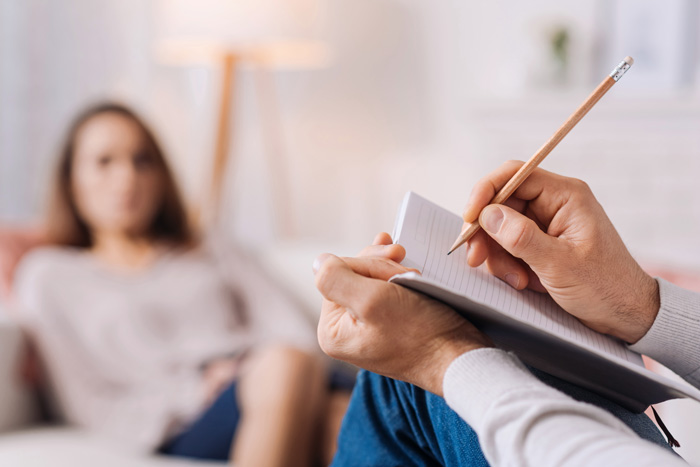 Your first therapy session can be nothing short of nerve-wracking, as you may not know what to expect upon arrival. However, experienced therapists suggest that there are easy ways to prepare, and you'll want to start by spending some time thinking about how you want to utilize your session.
We asked three professional therapists to break down some of the things everyone should know in order to make the most of a session.
Get to your first session early
"Arriving at your appointment early will give you the appropriate amount of time to prepare," says psychotherapist Lindsey Huttner. This allows you to take a few deep breaths in the waiting room before actually sitting down with the therapist.
Expect to fill out some paperwork
"Always expect to fill out some kind of paperwork upon arrival," says clinical social worker Elise Hall. At the very least, she explains that you may be asked to sign a consent to treatment and privacy policy form. You also may be expected to provide your therapist with some demographic information as well.
Come prepared to talk
"Many clients are surprised to hear that their sessions are directed by their needs," says therapist Stefani Goerlich. Hall agrees that you should, "expect to discuss all your reasons for coming to therapy during your first appointment. Your therapist might ask questions about your family history, your relationships, and your current level of functioning in order to best understand how to help."
Be prepared to feel lots of emotions
"Expect to feel a lot of difficult or unexpected emotions during your first appointment," Hall says. "People tend to feel awkward during the first session, but things tend to feel more comfortable after a few sessions." Huttner says, "Depending on what is bringing you to therapy, it's important to note that you may not feel better after the first session. This is totally normal, as you will have to keep going each week in order to see true progress."
Your therapist will write notes during your session
"Your therapist will write general notes on topics and themes that come up during your session, most likely in a secure health protected electronic medical record," Huttner explains. You should always free to ask about their record-keeping methods if you want the reassurance of your confidentiality, she advises.
Therapy visits may or may not be long term
"You can go to therapy as long as you would like," Huttner says. Clients tend to come weekly for the first three to four months to gain momentum with their bothersome symptoms, she explains. After that, clients usually switch to every other week (or even once a month) to maintain their progress and help address anything new that crops up.
It's OK to see another therapist
Hall explains that therapists and clients just aren't a good match sometimes. However, she suggests that this shouldn't discourage you from seeking the treatment you deserve. Instead, she advises booking a session with another therapist.
xx, The FabFitFun Team