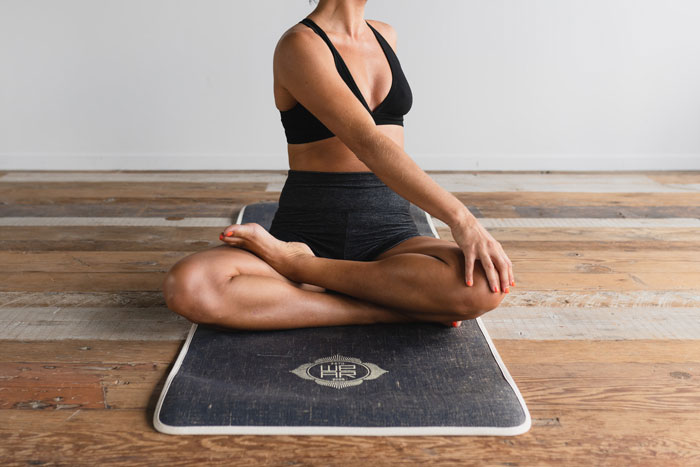 Feature Image by Dane Wetton
If you've been exclusively working out at home the past few months, chances are, your yoga mat has been getting a lot of use. But when was the last time you cleaned your mat? Or have you ever cleaned your mat?
Instead of reaching for disinfecting wipes, Danielle Cuccio, celebrity yoga teacher and CEO of Cuccio Somatology, shares tips on how to properly clean your yoga mat.
Which cleaning products should we use?
When looking for products to clean your mat, Cuccio suggests picking yoga mat sprays with natural ingredients to help extend the longevity of your mat. We recommend the Yoga Mat Sani Spray Cleanser, which features a unique natural formula of eucalyptus, with hazel, and Greek mastiha to help remove dirt, sweat, and odor. She also suggests avoiding products with harsh chemicals or ingredients (aka wipes containing bleach) because they can strip your yoga mat.
How should we clean our yoga mat?
"A towel and spray bottle is really the easiest way. Spray down your mat and wipe it down with a clean towel," says Cuccio. Also, don't forget to clean both sides of your mat, especially if you roll up your mat after a workout. If one side is dirty, it will get the clean side dirty again.
How often should we clean our yoga mat?
"Before or after every use. I know it adds time to your practice, but just make it a part of your ritual. Just like brushing your teeth," advises Cuccio.
When should we replace our yoga mat?
Even if you consistently clean your mat, there will come a time when you need to replace it. You'll know it's time to purchase a new mat "if you start to notice the mat flaking, not giving you the proper grip, or if it's uneven in certain areas," says Cuccio. Also, consider investing in a high-quality yoga mat, like this one from Alo Yoga. "If you purchase a good one, you'll be able to have that mat for years!" Cuccio advises.
xx, The FabFitFun Team