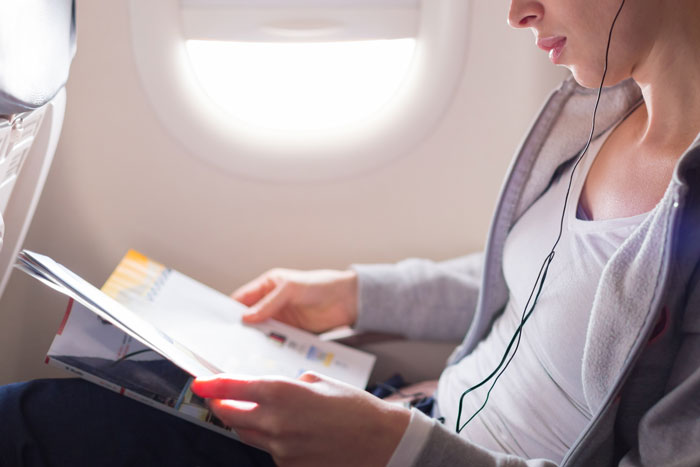 FALL 2018 EDITOR'S BOX PARTNER
We all know what it's like to be stuck on a five-hour flight with nothing to do. The minutes creep on and you seriously cannot wait to land because, well, you're just plain bored. And with the holiday season right around the corner, the long flights to see family and friends are inevitably approaching.
Luckily, the FabFitFun Editor's Box is jam-packed with things to help make a long flight more bearable. From blocking out your neighbor's reading light to indulging in a good read, check out our tried-and-true flight tips below:
Take a nap
Yes, we know how hard it can be to get a decent nap in during a flight, especially if someone has their reading light on. That's where the Free People x Understated Leather Starry Eyed Travel Eye Mask comes in — not only does it block out light, but it also has a cooling insert to help you relax and help with any facial swelling from the cabin's air pressure and an adjustable strap that fits comfortably around your head.
Listen to music or a podcast
Download a party playlist of all your favorite tunes or find a podcast series that can entertain you for hours. We recommend packing the CYLO Cobra Bluetooth Wireless Earbuds for the best listening experience. It has a high-definition stereo sound quality and a connected neck cord so you don't have to worry fumbling with tangled wires.
Read a good book
Stop by the airport gift shop before your flight or pack your favorite book from home in your carry-on. Reading an exciting novel or interesting biography will make it feel like your flight time is cut in half.
The best part? You can fit everything in a travel-friendly bag like the Summer & Rose Brittany Tote — it's the perfect size to fit under your seat and has two pockets to keep all your travel essentials safe. Happy travels!
xx, The FabFitFun Team
Psst! Have you signed up for FabFitFun yet? Don't miss out on $200+ in amazing beauty, fitness, fashion, and lifestyle products, access to exclusive fitness and cooking content on FabFitFunTV, members-only sales, and more. Join today!
To get the most out of your box products, make sure to check out the Insider page.