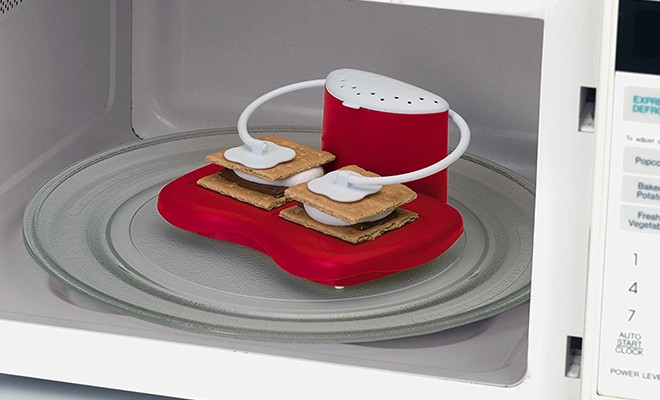 Urban Outfitters
Take a look around your kitchen…do your oven mitts look raggedy and pots old and rusty? It's time to revamp your culinary corner.
Luckily, there are so many innovative kitchen gadgets you never knew you needed. Check out these fun yet wacky essentials below:
Urban Outfitters Watermelon Keg Tapping Kit $20
Bring the party to life by putting this keg nozzle on a watermelon for fresh adult juice.
---
MoMA House Trivet $15.95
If you're looking for an artsy architectural addition to your kitchen, this trivet for hot pots folds into a neat looking home. We recommend picking one of these up as a housewarming gift.
---
World Market Chef'n Handheld Strawberry Slicer $14.99
Step up your smoothie bowl game with this easy-to-use strawberry slicer — and don't forget to snap a shot of your creation.
---
Uncommon Goods Tricerataco Holder $12
Who says toys are only for kids? If this contraption is going to leave us wanting more tacos, then we're game.
---
Prep Solutions Microwave S'more Maker $19.95
Bring the campfire straight to your home without the smell and bug bites. This device makes it easy to make two s'mores in just 30 seconds.
---
Maximizer Corn Sheller $69.99
We admit, this one's a little bit out there. But if you ever need to shell corn, this well-made hand crank will come in handy.
---
Emson Bacon Wave Microwave Bacon Cooker $9.99
Sometimes cooking bacon can be a mess, but this gadget makes it clean, simple, and efficient.
---
Red Oven Pull Monster $2.99
We dare you to avoid smiling while using this adorable tool. Simply use it to pull your oven racks toward you or adjust food on the grill.
---
Portable Cheese Melt Utensil $24.99
Get ready to "wow" your guests with this masterpiece. Fueled by tea lights, the melted cheese is great for crackers, meat, or even fruit.
---
Nostalgia Retro Series Pop-Up Hot Dog Toaster $19.04
Toast your buns and wieners simultaneously in this retro hot dog toaster. It even makes a pretty cool decoration for your kitchen counter.
xx, The FabFitFun Team