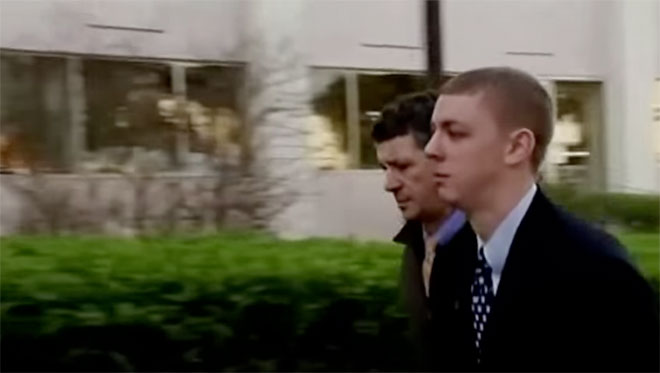 A former Stanford swimmer, who was convicted of assaulting and raping an unconscious woman, was sentenced to just six months in a county jail, despite a recommended sentence of six years.
Last January, Brock Allen Turner was found by two witnesses who intervened after seeing him on top of the woman, who appeared unconscious. When the police arrived, they found that Turner and the victim has blood alcohol levels above the legal limit. Turner claimed the sex was consensual, but the victim didn't even realized what happened to her until she woke up in a hospital hours later.
Judge Aaron Perksy handed the former Ivy League student a light sentence of six months in county jail (Turner could actually get out in three months for good behavior), citing that "a prison sentence would have a severe impact on him."
The Internet has reacted in outrage and there's even been a petition to recall the judge presiding over the case. The 23-year-old victim (who was 19-years-old at the time of the assault) read a letter to her attacker in court that's since gone viral. Here's an excerpt:
You have dragged me through this hell with you, dipped me back into that night again and again. You knocked down both our towers, I collapsed at the same time you did. If you think I was spared, came out unscathed, that today I ride off into sunset, while you suffer the greatest blow, you are mistaken. Nobody wins. We have all been devastated, we have all been trying to find some meaning in all of this suffering. Your damage was concrete; stripped of titles, degrees, enrollment. My damage was internal, unseen, I carry it with me. You took away my worth, my privacy, my energy, my time, my safety, my intimacy, my confidence, my own voice, until today.

See one thing we have in common is that we were both unable to get up in the morning. I am no stranger to suffering. You made me a victim. In newspapers my name was "unconscious intoxicated woman", ten syllables, and nothing more than that. For a while, I believed that that was all I was. I had to force myself to relearn my real name, my identity. To relearn that this is not all that I am. That I am not just a drunk victim at a frat party found behind a dumpster, while you are the All­ American swimmer at a top university, innocent until proven guilty, with so much at stake. I am a human being who has been irreversibly hurt, my life was put on hold for over a year, waiting to figure out if I was worth something.
Read the entire letter here — trust us. You need to.
xx, The FabFitFun Team