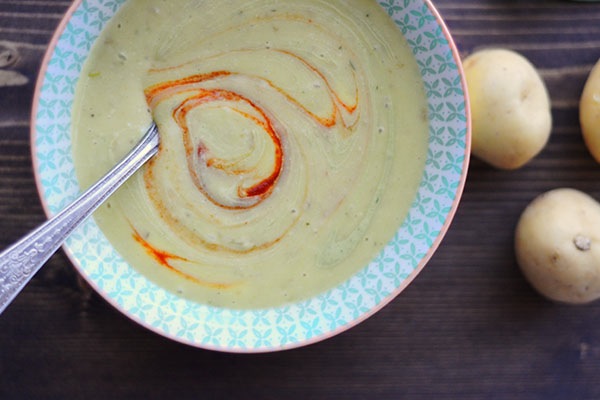 It's hard to beat a warm bowl of soup on a cold day and it's infinitely better when when you can make it yourself. Today, Honest Mama Juli Novotny is sharing one of her favorites. It's simple, delicious and a guaranteed favorite.
Despite the sunnier days we've had lately, winter is still upon us. Even in Southern California, I'm feeling the chill. So ice cream and summer salads are on hiatus, and my stovetop is getting all the action. One of my favorite meals for a cold day is warm and creamy soup. Last time I got creative with new soup ingredients it was squash curry; this time, I chose potatoes.
Potatoes are already super creamy in and of themselves, but this soup incorporates cashews as well to cream-it-up even more. It's so rich and hearty that you'll only need a cup, though I wouldn't judge you for indulging in a bowl (or two).
CREAMY VEGAN POTATO SOUP RECIPE
Yields 4 bowls or 6 cups
This recipe is fun to share with friends and is guaranteed to keep you warm and full. Pair it with a green salad and a glass of white wine.

Head over to Honestly for the recipe!
---
#ContentBFFs: In order to bring you the very best in beauty, fashion, fitness, and health, we have turned to some of our favorite websites. This article is courtesy of our amazing friends at The Honest Company. For more must-read content like this check out the Honestly, The Honest Company blog.