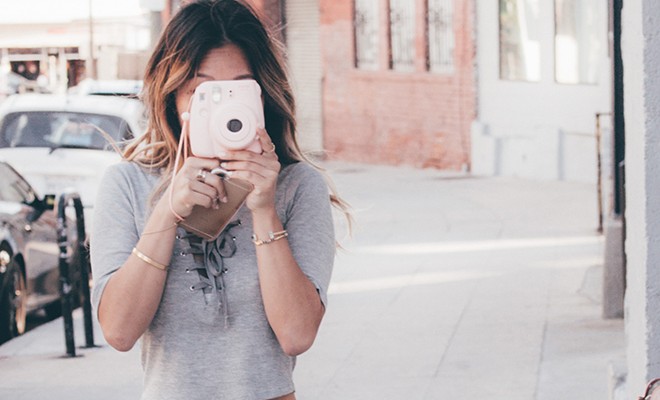 For most of us, getting professional photos taken is a nice splurge for those important milestones. But wouldn't it be nice if your everyday photos could look just as high-quality? Imagine how seamless your Instagram feed would be if you had the skills to capture frame-worthy images!
Lucky for us, Morgan, the fab mama-tographer of Laughing Latte, has one of the most beautiful Instagram feeds out there and a blog that offers free photography tips. We gathered some of the easiest tips from her blog below. Who knows? You just might be able to take your own holiday card photos this year!
Try to use natural light. "Never, I repeat, never use the camera flash. It instantly gives you harsh shadows, shiny foreheads and a blown out subject with a super dark background." So plan on getting your best photos outdoors, or at least close to a window indoors. We especially recommend taking photos during the golden hour (right after the sun rises or right before the sun sets) to get the most beautiful light and natural photos.
Never actually say cheese. Aim for actual laughter! Saying cheese "gives the most frozen smile you can capture. Instead, try to capture candid shots or say funny words like macaroni." If you're taking photos of a person, have them move around and be candid as you continue to snap away. This way, your photos won't look so staged and awkward.
Find some go-to filters. "I have a simple editing process that I apply to every photo. In general, I like to brighten, turn up the saturation, define the eyes, and smooth out the skin. It's a simple process that brings my photos to the next level, and since I apply them to every photo, it gives my whole collection of photos a cohesive look." Play around on your editing apps to find your favorite filters and keep the consistent theme going throughout all the photos you snap.
Try to stay out of the harsh midday sun. You would think the brightest sun would make for better photos, but that's not always the case. "The harsh midday lighting casts harsh shadows. Instead step into the shade, make use of a cloudy day or try to take photos early morning or late evening during the golden hours!"
Focus. Even though you have a smart phone, it can't always read your mind. "When you are on your phone, sometimes the phone doesn't focus on what you intend. Try using your finger and tapping on the face or object you want the picture focused around to make sure you capture a crisp photo!" Tip: if you have an iPhone, hold your finger down on the object you want the camera to focus on and the AE/AF Lock will keep this focus in place.
xx, The FabFitFun Team