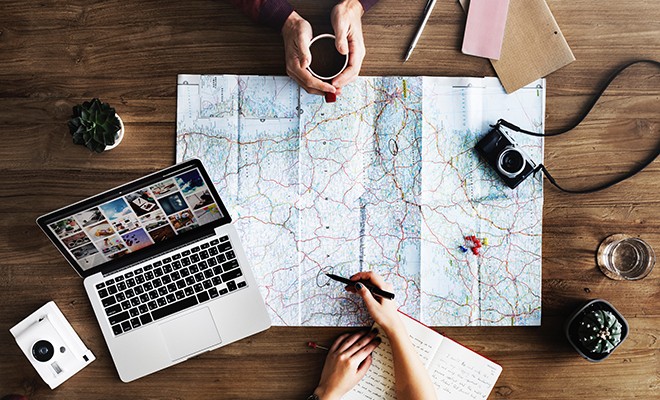 rawpixel.com
Traveling abroad has a certain "je ne sais quoi" that makes it glamorous and alluring. While any travel experience is eye-opening and invigorating, it can also be a headache if proper precautions aren't taken.
So before you pack your bags and grab your passport, you'll want to freshen up your travel knowledge. Here are a few tips on how to make your overseas journey as safe and as simple as possible.
Decide how you will obtain cash
The most important thing to plan ahead for is how you will attain money. Carrying large amounts of cash overseas is never wise, and if you decide to use ATM machines, you'll be charged a fee every time you use one that's out of your network. Instead, try signing up for Charles Schwab and Fidelity before heading out of town. Both banks offer checking accounts without minimum balance requirements and reimburse you for all ATM fees, including those from overseas. Also, be sure to notify your bank you'll be out of the country before you leave. Otherwise, the bank will likely freeze your account once it notices overseas charges.
Be wary of where you keep money
You shouldn't keep all of your money in one place when traveling abroad. In your day-to-day adventures, only carry as much money as you'll need. Keep the rest in a small safe or locked in your luggage wherever you're staying at. Also, be wary of keeping your wallet, cell phone, or keys in your back pocket. You'd be surprised how many times things fall out without you even noticing.
Check your passport's expiration date
Be sure to check the expiration date on your passport before booking your trip. While the United States allows you to use your passport up to the expiration date, some foreign countries deny travelers entry if the passport expires in less than six months in case you decide to stay longer than expected.
Set your cell phone up for international travel
There's nothing worse than seeing your phone bill after a trip. Avoid the headache of international charges by buying a prepaid phone or SIM card, or by turning off your cellular data. Instead, use apps like iMessage, WhatsApp, or Viber that allow you to call or text anywhere in the world for free.
Get traveler's insurance
While your health insurance might give you some coverage abroad, you'll want to make sure that you and your belongings are insured as well. This can protect you in case of natural disasters, illness, death, or theft.
Visit your doctor for appropriate vaccines
Do your research and learn about the various health concerns in the country you're visiting. Get all the required immunizations required for entry into the country before your trip.
Have backup copies of important documentation
In case your documents are lost or stolen, it's handy to have backup copies so you're able to get home safely. Scan and email copies of your immunization records, itinerary, medical insurance card, passport, plane tickets, travel insurance, and visas, and send a copy to yourself via email. Sending these files to yourself will allow easy access from your smartphone if an issue ever arises.
Register with your country's embassy
In case there's a problem in the foreign country you're visiting, registering with your government's embassy will allow them to easily locate you and get you to safety.
xx, The FabFitFun Team