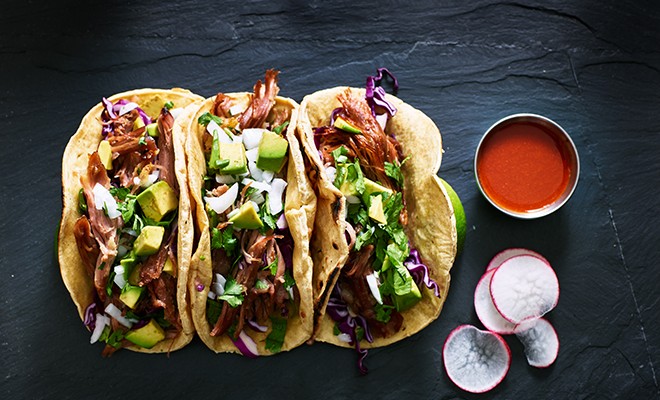 Who counted down the days to National Taco Day? We definitely did (it's today, by the way)! We'll take any chance we get to celebrate and eat tacos. Our plan? Make the most epic taco bar ever paired with margaritas and cervezas.
And to make sure we've got our taco bar bases covered, we enlisted the help of "Papi" (aka Jorge Barralles-Castro) of Papi's Tacos in Greenville, South Carolina — a hotspot for authentic tacos. From using corn tortillas to the right toppings and protein, check out his expert tips below.
Corn Tortillas Over Flour, Always! 
Looking to make a legit taco bar? "Always choose hand made corn tortillas for more authentic flavor (rather than flour)," says Papi. And plus, by using corn tortillas, your gluten-free pals will be able to participate in taco night.
Different Protein Options Are a Must
Papi suggests offering up two to three different protein options to shake things up. "Carne asada, pork carnitas, or chicken barbacoa are my favorites — but shrimp, chorizo, or a mild white fish are great options, too."
Salsas With Different Heat Levels
Some like it hot, and some don't. "Have a variety of salsas on hand for guests who like different levels of heat," he says. "My favorites are salsa verde, pico de gallo, and Guajillo peanut salsa (made from dried chilies)."
Toppings, Galore!
"Authentic tacos should have plenty of topping options such as raw onion, lettuce, cilantro, and always fresh limes for squeezing," he notes. Your vegetarian friends will be also able to build a solid meat-free taco with these toppings alone.
Taco Sides Are of Importance
Choosing the right sides is key. "Traditionally, street tacos are served with grilled spring onions," he says. "Another good choice is a light salad, like radish and cucumber with lime juice."
xx, The FabFitFun Team