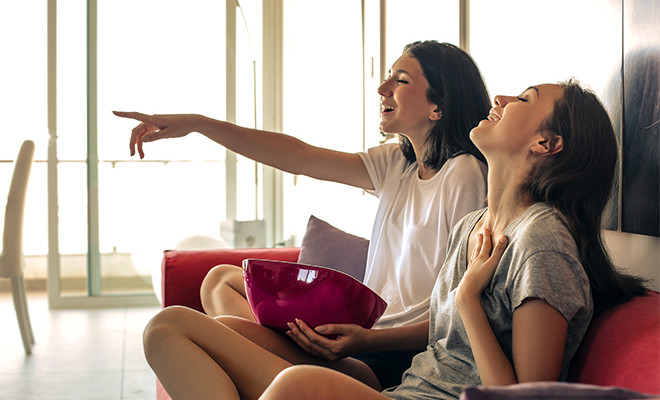 We all know that summer is basically over after Labor Day weekend. Days spent at the beach are soon becoming a thing of the past and now we're craving cuddly scarves, hot chocolate, and lazy nights in.
Prep yourself for colder weather and really get into the mood for fall with the classic films below. You'll embrace everything fall has to offer with these favorites.
Love Actually (2003)
It's not time to break out the string lights and pine trees just yet, but the changing weather is certainly an indication that the holiday season is just around the corner. Love Actually will get you in the mood to start thinking about your gift list and all of the people you love!
---
Hocus Pocus (1993)
Yep, it's that time to start planning your Halloween costume. Get inspired to start planning your best outfit yet with a screening of Hocus Pocus with your best gals. Who knows? You might even bring back the Sanderson sisters this fall — just don't forget to bring along the precious Black Flame Candle!
---
Mean Girls (2004)
We're pretty sure you've seen this movie enough times to know every line, but when it comes to how many times you can watch this classic comedy, "the limit does not exist." And how can their rendition of Jingle Bell Rock not remind you of how fun fall and winter is!
---
You've Got Mail (1998)
New Yorkers know the struggle of both the freezing cold winters and the scorching hot summers yet fall provides the city with a break from the extremes with some perfect temps and beautiful foliage. This classic captures the beauty fall in the city. "Don't you love New York in the fall?"
---
Good Will Hunting (1997)
The New England area is one of the best places to observe fall's changing colors. As if Matt Damon and Ben Affleck weren't enough reason to watch Good Will Hunting this movie also captures the scenery of a beautiful autumn in Boston.
---
Ferris Bueller's Day Off (1986)
Similar to Mean Girls, this film perfectly captures the teen angst of being a student — something we all reminisce about when the back to school commercials start to play. And really, does anything capture teen angst like a John Hughes movie?
---
Remember the Titans (2000)
You don't have to love football to appreciate the team spirit that comes with the game. No movie better captures team camaraderie like Remember the Titans. Get into an athletic state-of-mind and watch this movie right before Thanksgiving dinner!
---
Pitch Perfect (2012)
The end of summer signals the return of students to college campuses all over. Even if you're not in an acapella group, the campus scenes in Pitch Perfect will be sure to remind you of the beginning of a new fall semester.
---
Scream (1996)
Barren trees and hazy night time skies provide for the perfect backdrop to sit inside your home and engage in a scary film. Nothing screams horror film more than Scream. Just be sure to grab some buddies so you won't have to watch alone — it 's the perfect excuse for a movie night with friends!
---
A Charlie Brown Thanksgiving (1973)
You're never too old for a classic Charlie Brown film, especially one that will remind you of the feast in the near feature. This animated film is the ultimate indication of the approaching fall season.
xx, TheFabFitFun Team