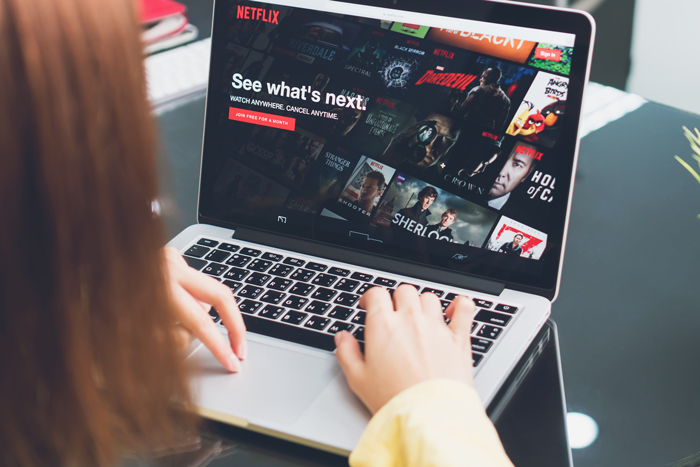 Netflix is adding more than 65 original series and movies to its streaming service this year, which means choosing what to watch in bed every night just got a lot harder.
To help you take the guesswork out of deciding which flicks are worth your time, we're sharing 10 Netflix originals that will be burning up your queue all year long.
In the age of swiping left on love, Dating Around captures the in-person awkwardness and beauty of the first date. Follow single bachelors and bachelorettes with diverse backgrounds and life experiences as they navigate finding love in the Big Apple. You'll swoon over the sweet, endearing sparks that almost make up for some of the cringe-worthy moments.
---
If Harry Potter and X-Men met and had a love child, it would be The Umbrella Academy. Starring Ellen Page, Tom Hopper, and David Castañeda, the series follows six estranged siblings with superpowers who were all adopted by their father and brought together to save the world. Along the way, they uncover shocking family secrets.
---
Workin' Moms is the Netflix show you need for a good laugh and a small dose of reality. Set in Toronto, the series is about four moms who are returning to work after maternity leave as they navigate balancing work, love, and motherhood as new moms.
---
If you are in need of a good laugh, Comedians of the World will serve you just that with a side of culture. The series includes 47 comedians from 13 regions around the world, including Brazil, India, Mexico, France, South Africa, Germany, and the U.S.
---
Idris Elba stars as Charlie, a down-on-his-luck DJ who takes a job nannying his famous best friend's 11-year-old daughter. This show is basically a modern-day version of Uptown Girls with a bit more humor.
---
Ever wondered about the story behind the food at street fairs? Well, Street Food is a docu-series that explores the culinary history of street food and the heritage in recipes and cuisines of people that got their start in the street food industry.
---
From the makers of Planet Earth, the series explores the beauty of Mother Nature at its finest. Narrated by Emmy and BAFTA winner Sir David Attenborough, the documentary also explores the impact of global warming on all living creatures.
---
Starring Michaela Coel, Black Earth Rising tells the story of Kate Ashby, a legal investigator who takes on war crimes. The plot thickens as she begins to uncover her past as a survivor of the Rwanda genocide.
---
This Netflix original will leave you feeling good about your own baking skills. Follow amateur bakers in this reality show as they compete to recreate extravagant and over-the-top cakes for a prize.
---
A light-hearted film about the highs and lows of growing up, My First First Love is about a group of twenty-somethings who move in together as they navigate life, love, and friendship.
Still not sure what to add to your queue? Here are the most buzz-worthy Netflix shows and movies.
xx, The FabFitFun Team