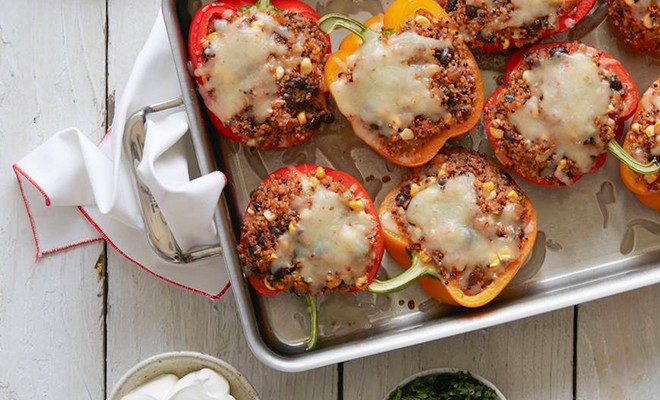 whatsgabycooking.com
Nothing beats going home to a fridge full of food, especially when it's all made and ready to go. Call it refined laziness or pure genius, but the best recipes are the ones that last you all week.
Release your inner Martha Stewart and whip up these delicious dishes Sunday night so your fridge (and your belly) is always happy and full. Let's get cookin'!
Turkey Chili
This yummy crockpot dish is chock-full of protein and great for those cool summer nights. Enjoy with some tortilla chips for a little appetizer, or add cornbread for a hearty meal.
---
Baked Sweet Potatoes with Crispy Kale and Feta
A quirky spin on the classic baked potato — this recipe not only tastes good, but it also makes you feel good. The flavors blend to make the perfect combination of sweet and savory. Just wrap each potato in foil and pop it in the oven before serving!
---
Coconut Vegetarian Curry
Healthier than your traditional curries, this 30 minute recipe is especially great for vegans and those on gluten-free diets. Every bite packs a lot of flavor, so you won't mind having this all week long.
---
Mexican Lasagna
Can't decide if you want Italian or Mexican for dinner? Well, you won't have to choose with this fun twist on lasagna that'll cinch both cravings at once!
---
Quinoa Stuffed Peppers
Vibrant, tasty, and easy-to-make quinoa stuffed peppers are as versatile as they are tasty. Get your oven hot for these bad boys and top with a bit of cilantro and guacamole!
xx, The FabFitFun Team