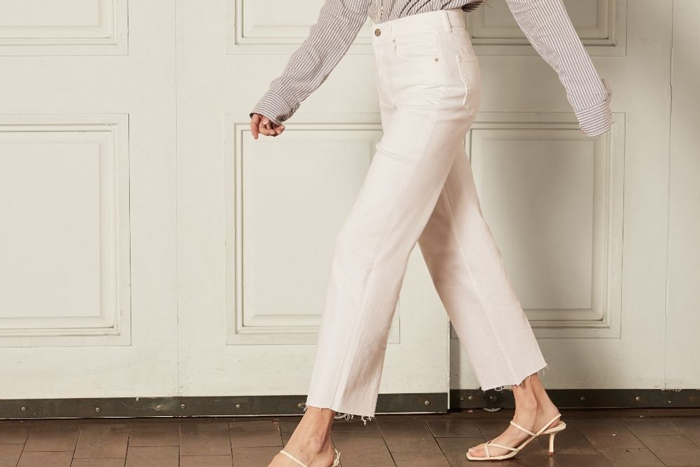 Feature Image by Tiare Rose
Denim's sartorial preeminence has outlived our year of lockdown. But after so much time spent in black leggings, we can't help but think about the environmental impact of denim.
"The fashion industry in general has a lot of sustainability issues stemming [from the making], from fiber to finished garment," says Kim Castellano, founder and CEO of the sustainable retailer Tiare Rose. "Denim's issues in particular relate to the fabric (usually cotton) and the dyes and washes." She explains that everything from pesticides used with non-organic cotton to GMOs, water usage, and toxins in dyes and waste are implicated in the different finishes on our beloved blue jeans.
Luckily, there are many environmentally conscious brands to support when you do shell out the dough for denim. Brands have been creating timeless styles (versus passing trends) and may also emphasize transparency in their supply chains, ensuring that there are no hidden "climate offenders" in the multi-step process between factory to store.  You may also look out for third-party certifications and disclosures relating to emissions/resources saved, efforts to offset carbon output, and attempts to minimize resource usage — from water, to electricity, and fuel and transportation costs.
We know that it's a process to learn how to shop more sustainably, but here's a quick way to get you started. Below are ten sustainable denim brands you can shop this summer — and wear year-round — for under $150.
Who can say no to a wide-leg jean? Particularly with a raw hem? While white bottoms are super trendy for summer, this vintage-inspired shade can be rocked year-round. Upcycled and made with Tencell™ Lyocell fabric (which uses less water than cotton), the brand makes sustainability a priority.
---
The classic brand's sustainability efforts emphasize durability — for a long product life-cycle that results in less waste — and efforts to waste less water via innovative production techniques. This pair, for instance, was made using their Water>Less® technology.
---
Relative to the denim industry at-large, ética minimizes 90% of water waste, 63% of energy consumption, and 70% of chemical usage. We love the idea of a jumpsuit or romper so long as it's made from sustainable denim.
---
Each pair of AGOLDE denim consciously minimizes water waste. Efforts to do so includes ozone wash technology using 80-90% recycled water and laser-finishing jeans, reducing the number of washes needed to achieve the desired finish.
---
This low-to-mid rise style, which also comes in non-plus sizes can be worn rolled, cuffed, or raw hem. The family-owned brand has prioritized sustainability by using upcycled materials (including recycled denim and plastic), non-toxic pigments, ozone washes and laser finishes to minimize water consumption, solar power and emphasizing energy efficiency, and more.
---
The comfy stretch denim makes for the perfect fit on ankle-length skinnies, while the raw hem adds a summer-ready touch. Not all styles from the brand are sustainable yet, but this pair features their eco-friendly doughty wash and recycled denim, plus uses eflow technology to reduce water use.
---
The relaxed, slightly slouchy fit of boyfriend jeans is irresistibly laid-back while these medium-weight jeans provide a touch of stretch for added comfort. The brand itself minimizes waste by operating from a family-run factory that pays fair wages, and purchasing sustainably-sourced denim.
---
If you're on the hunt for a sustainable denim jacket, Able's destroyed look is adorable. The Nashville-based line uses recycled mailers with a goal of having 100% recyclable packaging by 2021. They source sustainable denim from a vendor that recycles its water, uses ozone technology, and is in the process of getting WRAP certified.
---
The positive impact of this classic denim skirt includes saving over 687 liters of water, 2.1 kg of CO2 emissions, and 17.9 kWh of energy! In addition to sustainable material, the carbon-neutral line also ensures fair working conditions and supply chain transparency.
xx, The FabFitFun Team