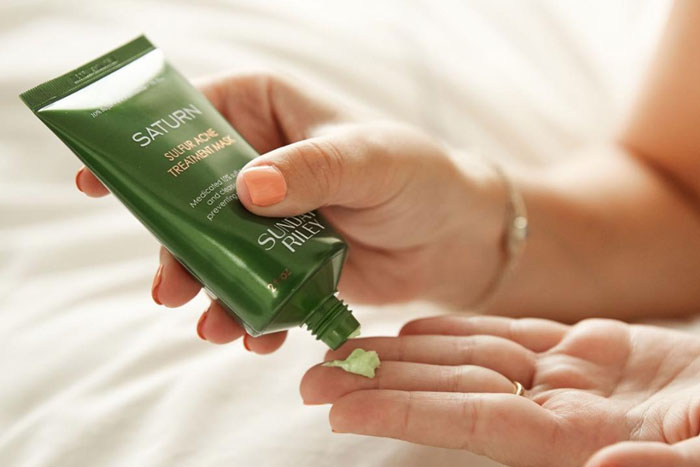 Feature Image by @seegoldenstyle
Nobody likes an acne eruption, so we always reach for sulfur, which is found in hot springs and volcanic soils. For thousands of years, sulfur has been used to treat many forms of acne as the all-natural antibacterial mineral absorbs excess oils and pulls out dirt lingering in clogged pores. Cool, right?
Our favorite way to use sulfur is in mask form because it helps the ingredient penetrate the skin when left on for a longer period versus washing it off right away as you normally would with daily cleansers. And as for sulfur's infamous rotten egg smell? Don't worry about that too much as many cosmetic chemists have found ways to remove the unpleasant scent while allowing you to still reap all benefits.
Say goodbye to your pesky blemishes with these products.

Sunday Riley Saturn Sulfur Acne Treatment $55
This neon green mask contains 10 percent sulfur, which quickly works to deeply cleanse the skin and leave your face feeling essentially pore-less. It's not too harsh for those with sensitive skin, but still effective enough to rid any unwanted blemishes poking out on the surface.
---

Dr. Tempt Corrective Treatment Toner $28
Pimples don't stand a chance against this tinted treatment! It dries down quickly allowing you to be able to leave it on overnight as a spot treatment, or even in lieu of makeup for days you want to eliminate redness on a massive blemish. We love how fast acting this toner is — the moment it's applied you'll feel it working to kill bacteria on emerging blemishes while calming irritation on broken skin.
xx, The FabFitFun Team