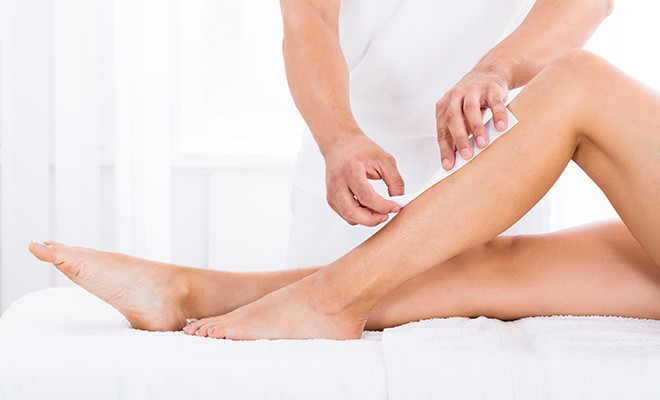 With summer just around the corner, here's the scoop on how to get the smoothest and silkiest skin.
Whether you're new to hair removal or best friends with your razor, here's what you need to know about sugaring and waxing — two hair removal methods that might be worth trying this summer!
What products are used?
Sugaring is great for sensitive skin because it's hypoallergenic. It's made of three natural ingredients: sugar, water, and lemon juice. Waxing, on the other hand, involves several chemical ingredients like resins that differ depending on the type of wax (soft vs. hard) as well as the brand. Unlike sugaring ingredients, which adhere only to the hair, wax ingredients can also adhere to live skin cells, which can irritate the skin and risk skin damage!
What's the process like?
Waxing typically involves applying hot wax to hair in the direction of hair growth using an applicator stick. A cloth strip is then applied firmly on top of the wax, which is then pulled quickly against the direction of growth for removal. Because of this, breakage is more likely to happen. Sugaring works the opposite way. An esthetician spreads a lukewarm ball of sugar paste onto the hair against the direction of hair growth and flicks it out in the direction of hair growth to remove the hair. While the ball of sugar paste is used repeatedly on the whole treatment area and thrown out after the session, waxing uses just one tub of wax and a lot of applicator sticks to get the job done. The tub of wax could be used for another client, so it's especially important to see that your esthetician doesn't double dip!
Is it painful?
Some argue that sugaring is the less painful hair removal option to waxing because there's less trauma on the skin…but don't let that fool you! Sugaring and waxing both hurt. Sugaring also has an added step of molding where the ball of sugar paste is spread onto the hair. This creates a tugging effect that can be quite painful, sometimes even more than yanking the actual hair out! Despite this, your skin will feel less irritated after sugaring compared to waxing.
How effective is it?
Both methods pull hair out from the root, so you can expect hair to grow back in two to eight weeks depending on what you get done. However, sugaring is said to be more effective on shorter hairs and can exfoliate the skin in the process of removal.
What's the price?
Sugaring tends to be more expensive than waxing since it's a little more time consuming. For either service, you can expect to pay $35 to $80 for the bikini area.
When it comes down to it, you're really choosing between the lesser of two painful hair removal techniques. Since sugaring is still relatively new, finding an experienced sugaring esthetician may be more difficult, so just weigh out the pros and cons of both to see which is the best fit for you!
xx, The FabFitFun Team