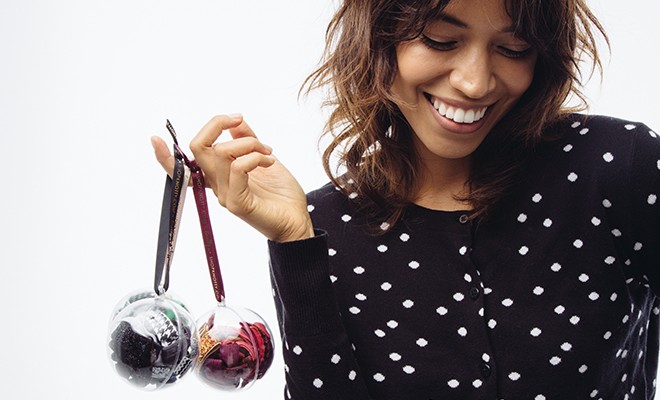 Let's face it, this happens every year. We wait until the very last minute to buy our friends and family their holiday gifts — but sometimes our shopping trip isn't as successful.
Luckily, our Winter Add-Ons program will help you get ahead of the game because it features amazing stocking stuffers under $50 for everyone on your list. And if you sign up as a FabFitFun member today, you can get instant access to even more discounts on the gifts below — from lipglosses to portable chargers.
So what are you waiting for? Get to shopping!
Deborah Lippmann Dream Weaver Nail Lacquer $18
Ever gal should add an extra nail polish to her collection — especially if it's Deborah Lippmann. We love this beautiful mermaid-esque shade as it will transition seamlessly from the holiday season right into spring and summer!
---
Deckopedia Mixology Starter Kit $49.95
We all have that friend who is amazing at making drinks — but we also all have that friend who thinks they're amazing at making drinks. Grab this for the latter to help them with their cocktail crafting game.
---
FabFitFun Wine Stopper and Charm Set $15
Wine not stick this in a stocking? These little guys will ensure your wine-loving friend never wastes an unfinished bottle of wine while being able to distinguish her friends' wine glasses.
---
Stonecask Music Note Bottle Opener $19.99
This bottle opener will be music to your friends' beers! This premium stainless steel bottle opener is a perfect stocking stuffer for the beer and music lover in your life.
---
Deckopedia The Natural Beauty Skincare Deck $19.95
Encourage your girls to embrace their natural beauty with this deck of natural skin care recipes. They're simple to make and much more affordable than a trip to the spa.
---
Knotty Hair Tie Bauble in Red $27
It's definitely hard to keep track of our hair ties, so gift all the females in your life with these cute holiday-themed hair ties that don't snag!
---
 Deckopedia Explore the Globe Series $49.95
Inspire your friend to take action on their wanderlust with this deck of destinations. It includes recommendations for amazing hikes, backpacking locations, and must-visit sites.
---
Betchsicles Popsicle Molds $19
Make the holiday season extra special and make boozy ice pops instead of those typical cocktails. Made by our favorites gals @betches, any gal would be happy to find these champagne-shaped ice pop molds in their stocking.
---
Deborah Lippmann Rich Girl Hand Cream $24
Keep your family's hands moisturized during this dry, winter season. Formulated with shea butter, avocado, and jojoba oil, it'll protect hands from the sun's harmful rays.
---
Butter London Siren Plush Rush Lipgloss $20
You can't go wrong with lipgloss as a stocking stuffer! This shade is especially perfect for the holidays.
---
Cargo Swimmables Bronzer $29
With fall and winter comes fading tans, so this is a perfect way to fake it. It's even water-resistant, so it won't streak and will keep that glow on your friend's face all day.
---
Buqu Chubs Power Bank in Gold $19.99
Anyone who finds this in their stocking will definitely find this gift useful. It's an adorable keychain that charges your phone on-the-go.
---
Stonecask Shot Flask $39.99
How handy will this be at your great aunt's holiday get together? Never worry about the alcohol supply, or lack there of, at a holiday shindig again!
---
Beauty For Real Midnight Marathon Shadow STX 24-7 $19
These shadow sticks are perfect for travel or tossing in your bag for last-minute touch ups! Your girlfriends will appreciate this waterproof formula, which will help their makeup slay all day.
---
KW Fashion Gloves with Knit Cuffs in Gray $34
These gloves are super stylish and will keep your friends' hands warm and cozy through the winter months.
---
Native Union Monocle Speaker $49.99
Um, you can wear this speaker. How cool is that?! Your friends will never expect this nifty gift in their stocking this year!
---
Butter London Blushclutch in Simply Sweet $39
Gift this to your mom and you're sure to make her blush! It's the perfect trio, and it has primer built in for an all day makeup look.
xx, The FabFitFun Team