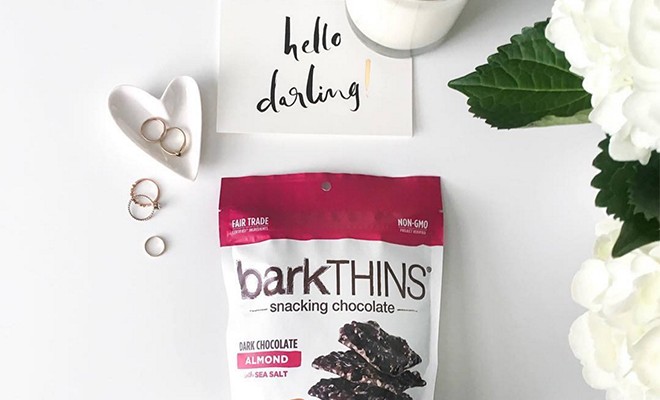 @barkthins
Snacking in the workplace can be a dangerous minefield. You have a vending machine and a kitchen calling your name and it seems like it's someone's birthday every week which means endless cupcakes and donuts.
Keep yourself in check by keeping a supply of tasty, yet hearty snacks in your desk drawer. Our faves range from salty to sweet, and they'll keep you on track and away from the bowl of fun-sized candy bars.
Lord Nut Levington Zesty Chili Lime Peanuts $4.99
Indulge yourself in some flavor when your stomach starts to growl at the office. These nuts, that got a big break from Shark Tank, are enticing, yet perfectly balanced. Make sure you keep the can hidden — your entire department will be wanting a handful of these!
---
Angie's Boom Chicka Pop. $4.49+
Make your afternoon snack a guilt-free one with this incredible popcorn. It's gluten-free, non-gmo, and absolutely delicious. With so many flavors to choose from (our fave is Caramel & Cheddar Popcorn Mix), your tastebuds won't ever turn this option down.
---
KIND Maple Glazed Pecan & Sea Salt $1.25/bar
Looking for a satisfying crunch? KIND bars are your best bet. Get your sweet and salty fix with this variation: the combination of pecans, almonds, and peanuts taste uh-mazing with the maple and sea salt.
---
Justin's Classic Almond Butter 1.15 OZ Squeeze Pack $20.05 (10 count)
Grab an apple or a banana and get to squeezin'! This snack is so easy, it will definitely become your go-to. These little packs give you the healthy fats you need to get your through your day, while giving you tastes you know and love.
---
Belvita Breakfast Biscuits, Blueberry $2.97 (5 count)
Missed breakfast this morning? Keep these in your desk drawer and you might start skipping the boring oatmeal or scrambled eggs on purpose. These biscuits are delicious and will keep you fueled even throughout your early morning meeting.
---
Late July Bite Size Cheddar Cheese Crackers $3.59+
Want something cheesy, but with a crunch? Your Cheez-It alternative is here and ready to make a home at your desk. This organic snack is convenient, tasty, and made with ingredients you can actually pronounce. That's always a plus in our books!
---
Bark Thins Dark Chocolate Almond w/ Sea Salt 4.7 oz bag $5.69
Veer away from the vending machine and grab this sweet treat instead. These dark chocolate slivers are delicious enough to fool your sweet tooth — the almonds add a satisfying crunch and each serving contains four grams of protein. You can feel good about this little indulgence!
xx, The FabFitFun Team