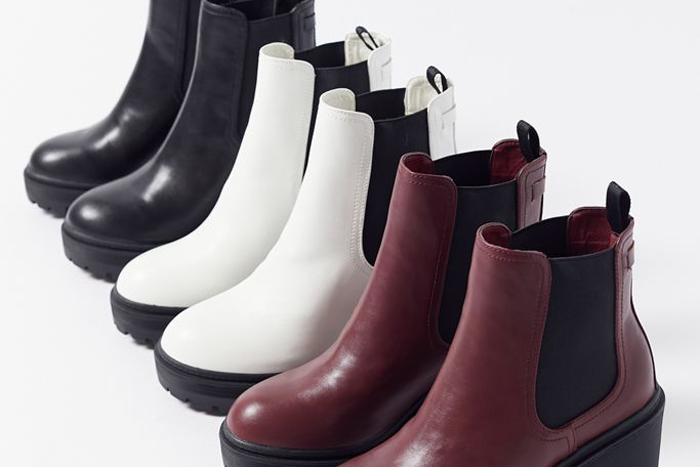 Feature Image by Urban Outfitters
Each and every year, as the temperatures dip and fall and winter transition into full swing, folks everywhere take a peek at their closet with a mind toward what to add. While you can never go wrong with leather, cozy shearling, and any comfortable, full-coverage silhouettes, we're here to help you pick a few new pieces with an eye toward what's trending in 2020.
Ahead, discover the five biggest shoe trends dominating fall and winter 2020, according to bestselling author, TV personality, and stylist Jené Luciani.
Chunky Loafers
It's no secret that loafers have been having a moment in 2020, but Luciani notes that the slim, flat silhouettes aren't the only loafer style to make room for in your wardrobe this season. Rather, she says the chunkier, the better. "Move over boring old flat loafers of season's past. The loafer just got a lift," she exclaims. "Whether it has a full back or a mule style, it's in leather or croc, with tassels or chains, just make sure it has a chunky heel, à la Prada and Lanvin.
Nostalgic, no? These chunky-heeled loafers take us back to the days of Clueless. Best of all, they're available in this universal black shade, as well as an edgy white colorway.
Black loafers are a classic staple but this textured purple pair will take your chunky loafer look to a whole new level. Prefer a different shade? They come in black, navy, and burgundy as well.
---
Bright Boots
Boots for fall and winter? While it may not seem all that groundbreaking, Luciani says the color you choose will ensure they are. "Boots are a winter-weather essential and whether you like them short, tall, sky-high, or flat, this season, make sure they're colorful," she says. "Remember last year's white boot reigned supreme? This year, designers like Marc Jacobs and Gucci got a stroke of genius — a paintbrush stroke, that is! From pale blue to brick red and every other color on the wheel, you'll be totally on-trend whichever you choose."
Even if your entire outfit is black, these metallic pink Docs will turn heads wherever you walk.
Excuse us while we swoon over these evergreen beauties. The chunky heel, platform sole, and cuffed ankle give the luxe croc a more casual vibe that can easily strut from brunch to dinner.
---
Sandals
Think it's too cold for sandals in the fall and winter? Luciani says to think again. The trick is to add a base layer to your favorite strappy shoes. "Transition all your sexy and strappy slingbacks right on through fall and winter by wearing them with thin socks (I personally love Stems or SKINEEZ, because they are super thin!)," she says. Another option is to skip the socks and get creative with how you lace them. "Take a strappy pair and winterize them by lacing them right over trousers or jeans, ala Valentino and Ferragamo," she suggests.
Blue suede and blue and white tie-dyed silk come together to create these stunning strappy sandals. Pair them over sheer navy socks to complete the fall and winter-ready look.
Brights colors and chains are having a major moment in 2020, making these strappy hot pink high-heel sandals a shoo-in for your layering needs. Simply slip on a pair of sheer socks underneath or strap them around your favorite leggings, flowy pants, or jeans.
---
Mary Janes
"Mary Jane still hasn't had her last dance," Luciani jokes in reference to the famous Tom Petty song. All jokes aside, though, Mary Janes are back and better than ever! "Every few years, this schoolyard-ish staple makes a triumphant return to the designer and high fashion runways," Luciani says. "Sometimes with a chunky heel, sometimes with a kitten heel, always with a coquette-ish appeal. Whatever you choose, there's a Mary Jane out there for you."
Prefer a flat sole? These ultra-cozy MJs will fit the bill. Best of all, they're sustainably made and built to last, so you can feel good about investing in a pair.
If you crave a little extra lift, these patent leather MJs are sure to make you swoon. Plus, since they have a block heel, they're bound to be cozier than you think.
---
Power Platforms
Platforms? Yes, please. "Whether it's a shoe, the aforementioned sandal (worn with socks, of course!), a bootie, or a Mary Jane, the higher the platform, the closer to the trend gods you'll be!" Luciani exclaims.
Say hello to your new favorite shoes. UGG's fan-favorite shearling pairs with a cozy elastic backing and trendy platform for a new take on cozy fall and winter style.
Here's another cozy option for folks looking to capitalize on the platform trend. And yes, you can wear white after Labor Day, we promise!
xx, The FabFitFun Team