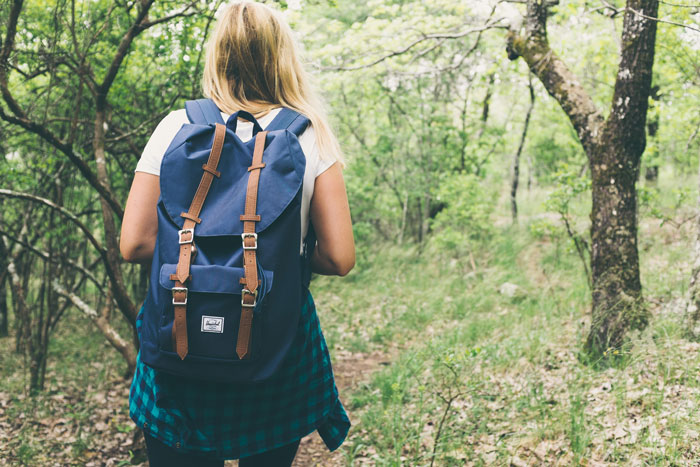 Feature Image by Stephan Vance
It's so important to take time to do something just for you. Why? It puts you in a clearer state of mind, keeps your mental health in check, and it's nice to just treat yourself every once in a while.
From going on a hike to working from home, there are so many different ways to practice self-care. Not sure where to start? Check out our self-care tips based on your zodiac sign.
Aries (March 21 to April 19): Spend the day alone
Your willingness to try just about anything and everything can often mean you tend to bite off more than you can chew. This weekend, say no to those plans that might not actually sound appealing and spend a day at home or getting all of your errands (finally) done.
Taurus (April 20 to May 20): Write down your accomplishments 
Stubborn but reliable, Tauruses can tend to settle because of a lack of confidence or insecurity. Try keeping a journal (or a note on your phone) and write down one thing you accomplished or were proud of each day. Over time, you'll be able to see all of the amazing victories you've made.
Gemini (May 21 to June 20): Give yourself some R&R
You have a tendency to be in a million different places at once, both physically and mentally, which can lead to a bit of instability. Take a day to unwind and just relax. Whether it's by booking a day at the spa or binge-watching an entire Netflix show, do something that just lets your brain take a break.
Cancer (June 21 to July 22): Take a hike
Homebodies at heart, Cancers tend to get stuck in a rut because they're so devoted to their family and friends. Try going on a solo hike to rest your mind. It will give you the time to appreciate what you have back at home and give you some alone time with your thoughts and emotions.
Leo (July 23 to August 22): Volunteer
Your natural ability to lead and command the space around you can make it hard to pay attention to what's going on around you. Take a Saturday to volunteer. It might not seem like self-care because you're helping someone else, but you'll feel so fulfilled after.
Virgo (August 23 to September 22): Be spontaneous
As a Virgo, you tend to listen to your brain over your heart because of your logical nature. Try something you haven't been letting yourself do because it's not "part of the plan," like splurging on those shoes you've been lusting after.
Libra (September 23 to October 22): Work from home
Libras are often known as peacemakers, which means you don't get the alone time you crave. If your job allows it, take a work from home day so you can get some things done, or take a Sunday to get your life in order — perhaps even invest in a fun planner to help keep your life in order!
Scorpio (October 23 to November 21): Dance it out
It's no secret that Scorpios can be a bit secretive, and that can cause some emotional stress, so try an activity that will help you get that negative energy out. Put on your favorite upbeat playlist and dance in your room, or take a challenging spin class. The point is to get your adrenaline pumping to help clear your mind.
Sagittarius (November 22 to December 21): Go on a weekend getaway
Ah, Sagittarius — you tend to get a bit restless, and if you let it go on, it negatively affects your mood. To combat this, try taking a small weekend getaway (or a longer vacation if you can!) to reset and get that travel bug out of your system. You'll come back refreshed and ready to take on the world.
Capricorn (December 22 to January 19): Take a yoga class
Sometimes, it can be a bit hard for a Capricorn to let go and relax because of the innate desire for control and stability. If you haven't already, try taking a yoga or meditating class to help you wind down.
Aquarius (January 20 to February 18): Learn a new language
Aquarians find the day-to-day quite boring and unchallenging, so exercise your mind. Learn a language you've always wanted to, or take a class at your local city college on that subject you always wanted to take but never did.
Pisces (February 19 to March 20): Treat yourself
As a people-pleaser, it can do a Pisces a lot of good to treat themselves every once in a while. Whether it's picking up that book you've been meaning to read or finally signing up for a class you've always wanted to take, it's all about doing something new and different.
xx, The FabFitFun Team