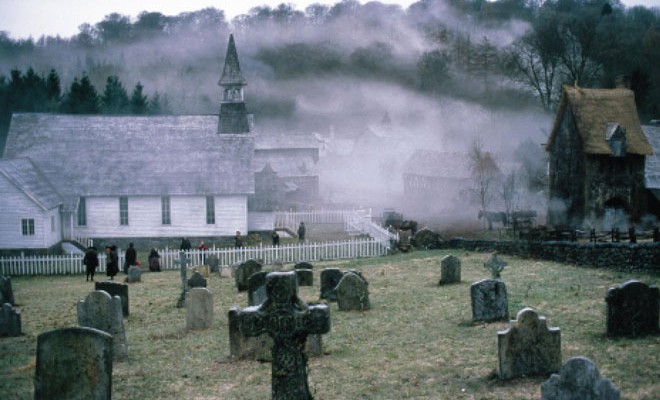 Feature Image by The Hallow
We're well into fall, which means our craving for a scary movie marathon has reached new heights. Whether you're a classic horror film buff or enjoy a more modern psychological thriller, Netflix has a whole selection to choose from.
Peep our ten picks that we'll surely be screening this month.

Raw (2016)
Try watching this cannibal movie the next time you're scrolling through Netflix. Rolling Stone calls this a "modern horror masterpiece" and we can't help but agree. This film isn't for the faint of heart or those who literally faint at the sight of blood — don't say we didn't warn you.
---

The Hallow (2015)
If you like survival movies with a dash of demons, this should be next on your watch list. A young family moves to a remote area and things start to go wrong. Check this one out for the acting, the score, and of course, the monsters.
---

The Babadook (2014)
An intelligent and emotional scary movie? Yes, please! This film tackles a range of topics including single parenting and unconditional love, along with a monster to keep things interesting.
---

Eyes Wide Shut (1999)
Take a trip back to the '90s when Tom Cruise and Nicole Kidman reigned the box office. The movie took over 15 months to shoot and featured the real-life married couple. It's definitely one of the creepier films on the list, but it's guaranteed to keep you on your toes.
---

Cult of Chucky (2017)
While this movie didn't get the rave reviews it deserved (kidding), it's still a good watch for any Chucky fan out there. It's ridiculous in a good way, might make you laugh, and definitely has a few scenes that make you jump out of your seat.
---

Jaws (1975)
This thriller really never gets old. Get your popcorn ready, get snuggled up with a blanket, and prepare to have your heart racing the entire two hours and 10 minutes of pure horror.
---

Sleepy Hollow (1999)
Join Ichabod Crane (played by Johnny Depp) travels to Sleepy Hollow to investigate the deaths of three people – all who are conveniently missing their heads. Tim Burton manages to make the story of the Headless Horseman equal parts spooky and entertaining.
---

Gerald's Game (2017)
This movie, based on the Stephen King novel of the same name, is nothing short of mind-blowing. The film adaption does this thriller justice and keeps you spooked the entire way through.
---

The Invitation (2015)
The psychological thriller is absolutely freaky and we love it. Is the main character going to make it through this dinner party with his ex-wife and her new husband? Or will he meet a tragic end?
---

The Pact (2012)
If you like dark secrets, ghosts, and family drama, this movie is the one for you. You'll sense tension building throughout and that eerie feeling you just can't escape — two factors that make this film great.
xx, The FabFitFun Team