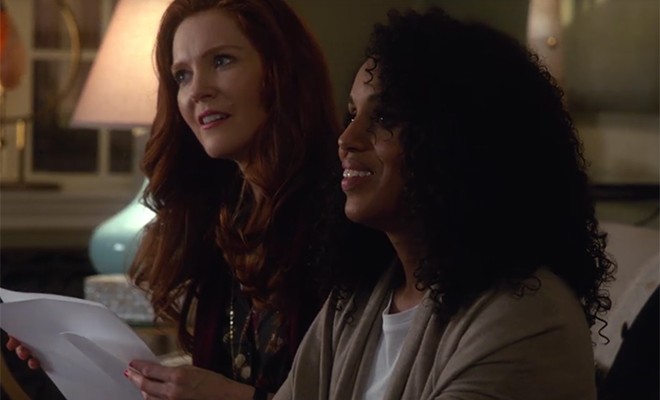 There's a Freaky Friday moment happening on Scandal this week. The show has flipped the universe on its head for a shocking look at what would have happened if Liv said no to Defiance, and Fitz was never president. You don't want to miss this special 100
You don't want to miss this special 100th episode recap!
Oliva and Fitz have their dream wedding. A year after losing the election, Fitz leaves Mellie and proposes to Olivia. The dress, the decorations, and the ceremony may have been perfect, but this marriage may not be. As Liv works to get a bill passed, Fitz becomes a TV celeb on The Grant Report and begins to get restless.
Mellie and Cyrus are the new power couple. When Cyrus spots Mellie lurking near the church where Liv and Fitz are getting married, he goes to comfort her. Add some booze, an awkward kiss, and a year later they end up married. Both are convinced Mellie could still win the White House. Though they start campaigning, they hit some major bumps in the road aka Mellie finds out Cyrus is really in love with James. Plus, a certain imposing man — who we know as Papa Pope — is calling the shots.
Huck loves reality dating shows and a certain Lindsay D. contestant. Alternate reality Huck is pretty adorable. Yes, he still works for Olivia. He even walks her down the aisle at her wedding. The best part, however, is his love for a Bachelor/Bachelorette type show called the Prince. His favorite contestant? Lindsay Dwyer. And if that name is familiar, it's because that was Quinn's name before she was Quinn. And now Lindsay is a reality TV queen.
Olivia tells Fitz about Defiance. Fitz is a bit lost in life, and he and Olivia end up fighting a lot. Liv ends up telling him that it's all her fault: she could have made him president, but she turned it down. She knew Fitz wouldn't want to win that way. This derails Fitz, and he becomes the drunk guy who lets Lindsay Dwyer make out with him after his show. Olivia tells Abby she's going to divorce Fitz.
Some things are just meant to be. After seeing the man that he's become, Fitz cleans up and tells Liv he's going to work at being the man she deserves. Abby talks some sense into Olivia, and Liv takes Fitz back and offers to move into a house that is both of theirs — looks like their love wins the day. Back in the real world, Olivia agrees to take out the people controlling Rowan to get Mellie in the White House. She agrees with a very meaningful look in her eyes. Does their love win in the real world too?
xx, The FabFitFun Team