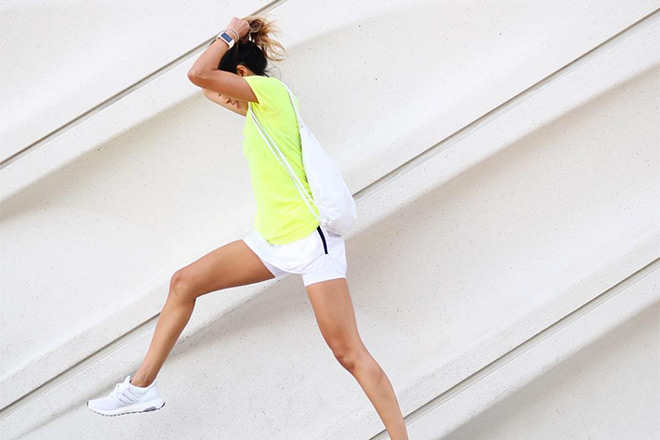 @rrayyme
Shopping for the perfect running shoes can be daunting — especially with all the new high-tech sneaks out there. So which pair of shoes is right for you?
The first thing we recommend is to evaluate your foot type along with your preferred style of running. Are you flat-footed or high-arched? Do you prefer trail runs or road-running? Or do you even lean more towards barefoot running?
Below are running shoes we recommend for different foot types and for those who want to go the minimalist route.

If you have a neutral/normal arch… try the Saucony Type A5 $75
Normal-arched folk often pronate from heel to toe. Shoes that give just the right amount of support without being too padded are these road racer Sauconys. The breathable mesh material keeps runners feeling light and cool during those long pavement-hitting runs!
---

If you have a high arch… try the Brooks PureCadence 4 $90
These runners tend to under-pronate or supinate, meaning the outside of the heel strikes the ground — but the high arch causes the impact to be concentrated on the outside part of the foot. Our fave shoe for these runners are the trail-running Brooks. They offer support in all the right places, and are extremely comfortable.
---

If you have a flat foot/low arch… try the Asics Gel-Kayano 22 Lite-Show $160
People with flat feet over-pronate when they run. This means that the foot rolls inward and there isn't much shock resistance when the foot hits the ground because there is little arch. The arches absorb excess shock that normally lead to injury. These Asics Gel-Kayanos are luxuriously cushioned, making them an ideal shoe for those who want the extra support.
---
If you're new to barefoot running… try the Nike Free 3.0 Flyknit $140
The Nike Free Flyknits are great for roadrunners who want to ease their way into cushion-free shoes. Their super airy and lightweight material makes you feel like you're flying instead of running really. Flyknits are Nike's most natural running shoes which are designed to encourage a more natural footstrike.
---
If you're a seasoned minimalist… try the Merrell Vapor Glove 2 $85
A barefoot trail-runner's dream comes true in a shoe! With a 0 millimeter drop, 0millimeter heel cushion, and 5.5 millimeter heel stack height, these Vapors provide great traction and featherlight runs.
---

If you're an extreme barefooter… try the Vibram Five Fingers Bikila Evo $96
When it comes to barefoot running, nothing comes close to the Vibram Five Fingers. The shoes are sized to your exact foot shape to give you the most minimalistic running, hiking, and walking experience.
xx, The FabFitFun Team