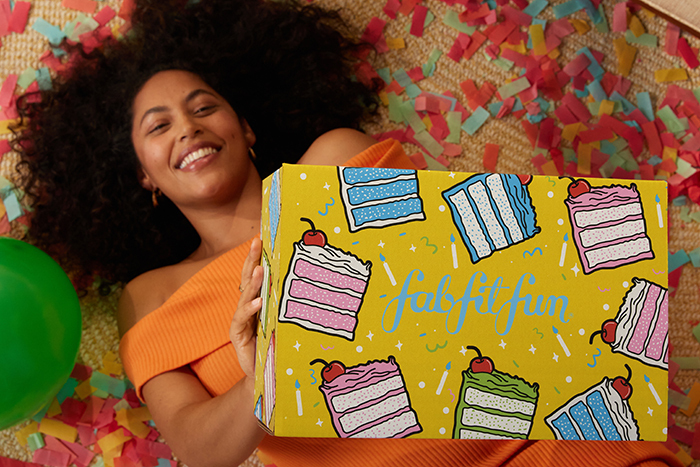 Happy Birthday to us! We're celebrating 10 years of FabFitFun this spring season, and wanted to turn the party up a few notches with one of our best curations yet! Without further ado, check out all the amazing products you can celebrate FFF with as we officially roll out our 2023 Spring Box!
Customization 1 – All Members
All members get the chance to customize these options in their box.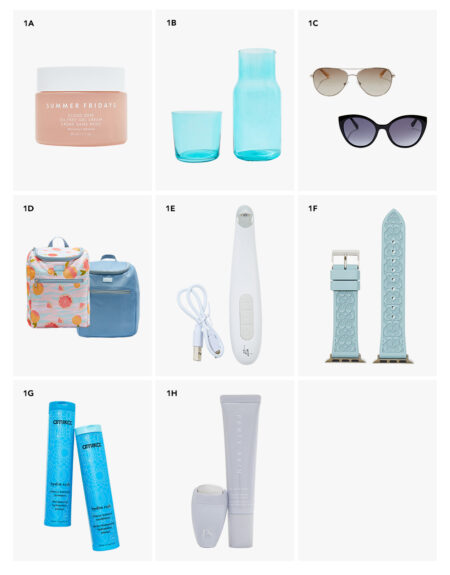 1A. Summer Fridays Cloud Dew Gel Cream Moisturizer ($42 value)
Dew you want to be let in on a little secret? This moisturizer is a must-add to your skincare regimen and will take your skin to new heights! Three types of hyaluronic acid work their magic to add hydration and moisture to dry skin.
1B. Jonathan Adler Bedside Carafe & Cup Set ($50 value)
This bedside carafe is perfect for dressing up a guest room, keeping water by your side at night, or serving up some lemonade or juice when hosting. It adds a fun and sophisticated touch no matter how you use it!
1C. Kate Spade Sunglasses –Emmaline or Samantha ($129 value)
Kate Spade is serving shade in the best way with these sunnies! Whether you choose the statement-making Samantha cat eye look, or the Emmaline sunglasses with the cool aviator vibe, you'll be looking and feeling amazing in the spring and summer sun, poolside with your fave beverage in hand.
1D. JuneShine Cooler Backpack in Summer Citrus or Marine Blue ($60 value)
This is the coolest way to take your beverages on the go! This cooler is headed to your Spring Box in two color choices and it'll become your new springtime staple. Your drinks and snacks will stay cool while you enjoy the heat!
1E. LUMINA NRG 3-in-1 Eye Lift ($149 value)
This innovative device uses red light therapy to refresh and revitalize the delicate skin around the eye area. Red light therapy will smooth the appearance of fine lines and wrinkles and promote collagen production. It works in unison with Thermal Therapy to stimulate blood circulation and reduce inflammation.
US & CA only
1F. Coach Apple Watch Strap ⏳ ($85 value)
Buckle up for this next option! It's always the right time for an adorable new way to showcase your Apple Watch, and we absolutely love this durable and colorful option.  (*watch not included)
1G. Amika Hydro Rush Intense Moisture Shampoo + Conditioner ($52 value)
This will be a long-lasting relationship once you try this incredibly moisturizing shampoo and conditioner duo. Hyaluronic acid and squalane are key hydrating ingredients found in skincare products, and now they can be part of your haircare arsenal as well!
1H. Fenty Skin Flash Nap Instant Revival Priming Eye Gel-Cream with Green Tea + Persian Silk Tree + Eye Massage Tool ⏳ ($42 value)
If you need a quick fix and instant way to fake 8 hours of sleep, this product has you covered. Fenty Skin does it again with this instant revival eye cream — a true do-it-all and then some beauty item! Say goodbye to the look of puffiness, dark circles, and even fine lines, and hello to eyes that look well-rested and ready to take on the day. It comes complete with a mini eye massage tool so you can make sure to target problem areas efficiently and quickly.
Customization 2 – All Members
All members get the chance to customize these options in their box.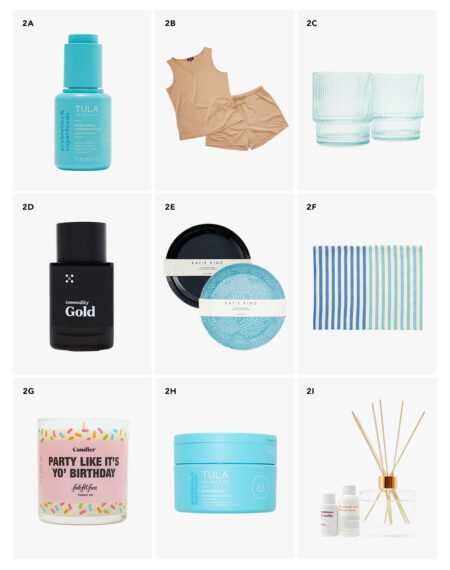 2A. TULA Skincare® Brightening Treatment Drops Triple Vitamin C Serum ($56 value)
Come C for yourself why these brightening treatment drops need to be added into your skincare routine! It's formulated with three types of Vitamin C: two that work together to diminish dark spots and brighten the skin, while the third type, called the "recharger," ensures the other two remain activated and working throughout the day. Use a.m. and p.m. for your brightest skin yet!
US only
2B. NYDJ French Terry Lounge Set in S/M, L/XL, 0X/1X, or 2X/3X ($60 value)
You'll be all set for prime relaxation with this NYDJ French Terry Lounge Set! The first of its kind in a box, we're excited to include such an adorable (and useful) ensemble for lounging in style! It's lightweight and super comfortable, perfect for the sunnier days ahead. Pro-tip: try them out as separates too with your fave pair of jeans or oversized tee!
2C. Jonathan Adler Ribbed Glass Set ($35 value)
You'll be sipping pretty with these beautiful ribbed glasses in Customization 2. The unique design and sturdy material make this a useful and stylish addition to your collection, and are perfect for everyday use or for entertaining friends and fam!
2D. Commodity Gold Expressive ($70 value)
Yes, you read that right! This full-sized fragrance is the first we've ever incorporated in a box, and we're hitting it out of the park right away with this one! A rich, decadent, and super luxurious blend of amber, vanilla, and sandalwood  intertwine perfectly to keep you smelling pretty all day long!
Contiguous US only
2E. Katie Kime Melamine Plate set – choice of solid or patterned ($40 value)
Reduce your single use but make it cute! These durable reusable plates will dress up any outdoor space as the weather warms up! They're lightweight and easy to carry, but sturdy enough so you can avoid the stress of paper plates breaking as you're trying to serve up delicious treats!
2F. Katie Kime Placemats ($40 value)
 Innovative and sustainable are two key words that come to mind when we think of these placemats. They're made from recycled water bottles – yep, you read that right! They're also machine washable, and did we mention, super cute for springtime events?
2G. Ryan Porter x FFF Birthday Candle ($34 value)
Happy Birthday to us and all other springtime babies! We're getting lit for our birthday with this Ryan Porter collab, and think it's the perfect gift for all your besties and family members as well! It'll be a party in every room with this festive scent and celebratory design!
2H. TULA Skincare® Biodegradable Toner Pads ($36 value)
These prebiotic and probiotic-packed pads from fan-favorite brand Tula are here are a must-have skincare go-to. They're super lightweight and made of biodegradable bamboo fibers that seamlessly lift impurities and help restore skin's PH levels.
US only
2I. Makesy Diffuser Kit ($45.95 value)
We're scent-sing that you'll love making this DIY project just as much as you'll enjoy the finished product! Cozy and calming scents of cashmere and vanilla will add a special touch to any room, and it's an easy and fun way to get crafty this season.
Customization 3 – All Members
All members get the chance to customize these options in their box.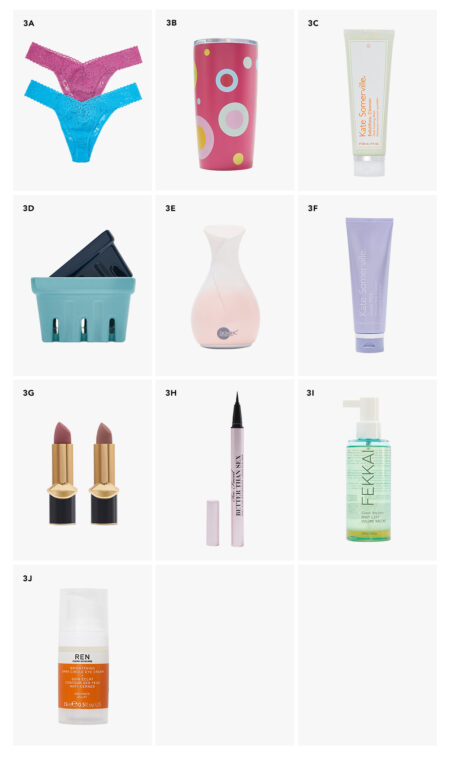 3A. Hanky Panky Panty Pack in Standard or Plus ($48 value)
This brand is home to the famously comfortable thong, and now that thong can find its way to your home! Their comfy classics have an innovative V shape front and back, allowing it to sit comfortably on the hips. This brand is loved by celebrities, stylists, and people worldwide. We can't wait for you to see why!
3B. Sprinkles Tumbler ($30 value)
Keep the drinks cold and the vibes festive with this Sprinkles Tumbler. It's always a party with this product, as the signature Sprinkles colors adorn this on-the-go necessity!
3C. Kate Somerville ExfoliKate Daily Foaming Face Wash ($44 value)
Wash the dirt (and stress) of the day away with this gentle cleanser, formulated with AHAs and fruit enzymes to cleanse the skin and remove dirt, makeup, and surface impurities, resulting in smoother skin.
3D. Katie Kime Ceramic Berry Bowls ($25 value)
These reusable berry bowls are a perfect complement to the Katie Kime plates and placements, and can be used to keep your fruit fresh in the fridge, or displayed nicely on your table. They're also the sustainable choice in place of plastic bags or containers when you hit the farmer's market for your weekly finds.
3E. Skin Inc. Cryo-Ice Sake Roller ($48 value)
It's getting cold in here and we're loving it! This sake-inspired cryo facial brings the chill, and increases microcirculation, minimizes pores, depuffs sensitive areas, reduces appearance of  redness and inflammation, and even lifts your features! The list of benefits goes on and on, and we can't wait to add it to our Spring Box!
3F. Kate Somerville Goat Milk Moisturizing Cleanser ($44 value)
With so many proven benefits for the skin, goat milk products are becoming increasingly more popular in the world of skincare, and for good reason! This goat milk cleanser from Kate Somerville is designed to cleanse and soothe the skin, leaving it soft and moisturized without tightness or irritation.
3G. PAT McGRATH LABS MatteTrance™ Lipstick in FemmeBot or Soft Core ($39 value)
Kiss your other lipsticks goodbye when you add this to your Spring Box! These PAT McGRATH LABS MatteTrance™ Lipsticks have revolutionized the game with their "powder in a bullet" formula, allowing them to saturate your lips in color, yet remain lightweight. The oil-infused lipstick conditions lips, making this an obvious choice when it comes to your makeup. The only decision you need to make is which stunning shade to choose! Pro tip: you can also use these on your cheeks for a gorgeous pop of color. We love a multi-tasking product!
3H. Too Faced Better Than Sex Easy Glide Waterproof Liquid Eyeliner ⏳ ($24 value)
This eyeliner is formulated to create the perfect line, every time. The cutting-edge, smudge-proof formula and the innovative, dual-fiber brush make a dynamic duo, clearly showing why this is an Allure's Best of Beauty award winner and one of the brand's best sellers!
3I. Fekkai Clean Stylers Root Lift Volume Spray ($28 value)
Lift your roots (and your mood) when you realize every day can be a good hair day. This non-sticky volume spray combats humidity and takes your hair to new heights in the best way. Triple-Boost Technology lifts and volumizes, while restoring broken keratin bonds, so your hair can be happy and healthy.
3J. REN Clean Skincare Radiance Brightening Dark Circle Eye Cream ($51 value)
Sometimes you need a little help when it comes to looking well rested through the day, and we have just the thing! Combat tired eyes with this hydrating cream, proven to visibly reduce the appearance of dark circles after 7 days of use. Free radicals that cause puffiness are neutralized and the eye area is smoother and brighter looking throughout the day thanks to the perfectly balanced mix of elderberry flower extract and glycogen.
Customization 4 – All Members
All members get the chance to customize these options in their box.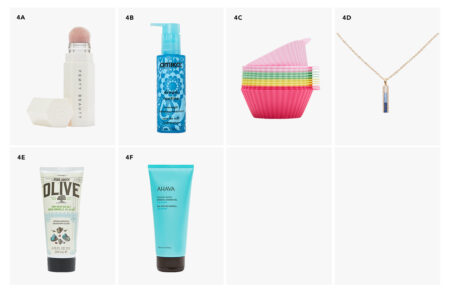 4A. Fenty Beauty Portable Contour & Concealer Brush 150 ($24 value)
Need to contour and conceal on the go? No problem, Fenty Beauty has got you covered. This portable, retractable brush pairs with your favorite products and will definitely earn a permanent spot in your on-the-go makeup bag when you're traveling or out and about!
4B. Amika Dream Routine Overnight Hydration Treatment ($28 value)
The definition of "set it and forget it," this overnight treatment is infused with hyaluronic acid, which we all know is the key to hydrated skin, and now hair! Your hair will be 3 times more hydrated by the morning*, epitomizing the term "beauty sleep." It doesn't need to be rinsed out so it's a time saver as well! Sounds like a win-win to us.
*clinically proven, when used as directed.
4C. Sprinkles Silicone Baking Cups – Set of 12 ($25 value)
This choice is a real treat and you'll be baking up some fan favorites for your friends and family this season with these reusable baking cups. Use these in place of paper liners and you'll feel good about using this sustainable option!
4D. Vince Camuto Blue Ombre CZ Necklace ($68 value)
This gorgeous, gold plated bar necklace will add an elegant yet colorful touch to your spring wardrobe. Three stone colors create an ombre effect that's sure to garner a lot of compliments when you pair it with your fave outfit!
4E. KORRES Pure Greek Olive Body Cream – Sea Salt ($27 value)
Transport to the Greek islands from the comfort of your home with this luxurious choice in Customization 4. Vitamins, omega fatty acids, and antioxidants ensure skin is soft and smooth all spring long.
4F. AHAVA Mineral Shower Gel – Sea Kissed ($23 value)
Clean, hydrate, and refresh your skin without overdrying! The perfect choice if you want to turn your shower into a beachy oasis, this shower gel has a fresh scent, and is made of skin-friendly ingredients such as zinc to boost collagen and fight inflammation.
Customizaton 5
Only Annual Members get to customize these options in their box. Otherwise, FabFitFun will choose the best option for you. Want to pick? Upgrade to an Annual Membership at fabfitfun.com/upgrade.

5A. Earth Harbor AZURE Regenerative Neck Creme ($48 value)
Plump, firm, and lift the appearance of the delicate neck and chest area with this Customization 5 must-have. This new product is just hitting the Earth Harbor line, and we're so excited to have it in the box this season. The neck and chest area is often overlooked when it comes to skincare, and this product, brimming with Seaweed amino acids, copper peptides, and botanical actives ensures no area is overlooked when it comes to skincare.
5B. NCLA™ Birthday Cake Beauty Sleep Lip Mask ($21 value)
Every day will feel like your birthday when you wake up after using this sleep mask. Key ingredients such as castor seed oil, shea butter, mango seed butter and vitamin E nourish lips so they're healthy, soft, and glowing. The perfect way to recover after the cold winter months!
5C. Zoë Ayla® Eco Friendly Headband ($15 value)
This is a key part of your skincare routine you may be missing! Simplify the process and use this headband to keep your hair in place while you apply your serums and moisturizers, do your makeup, or throw on your favorite mask for a self-care night.
5D. grace & stella Hot + Cool Gel Bead Sleep Mask ($18 value)
Goodbye puffy eyes! Soothe and comfort the delicate eye area however you need to most! Heat up the eye mask for a relaxing sleep, and to help with congested sinuses, while increasing blood flow. If you're dealing with tired, puffy eyes when you wake up, give yourself a little boost and pull this eye mask straight from the fridge for some TLC!
Customization 6
Only Annual Members get to customize these options in their box. Otherwise, FabFitFun will choose the best option for you. Want to pick? Upgrade to an Annual Membership at fabfitfun.com/upgrade.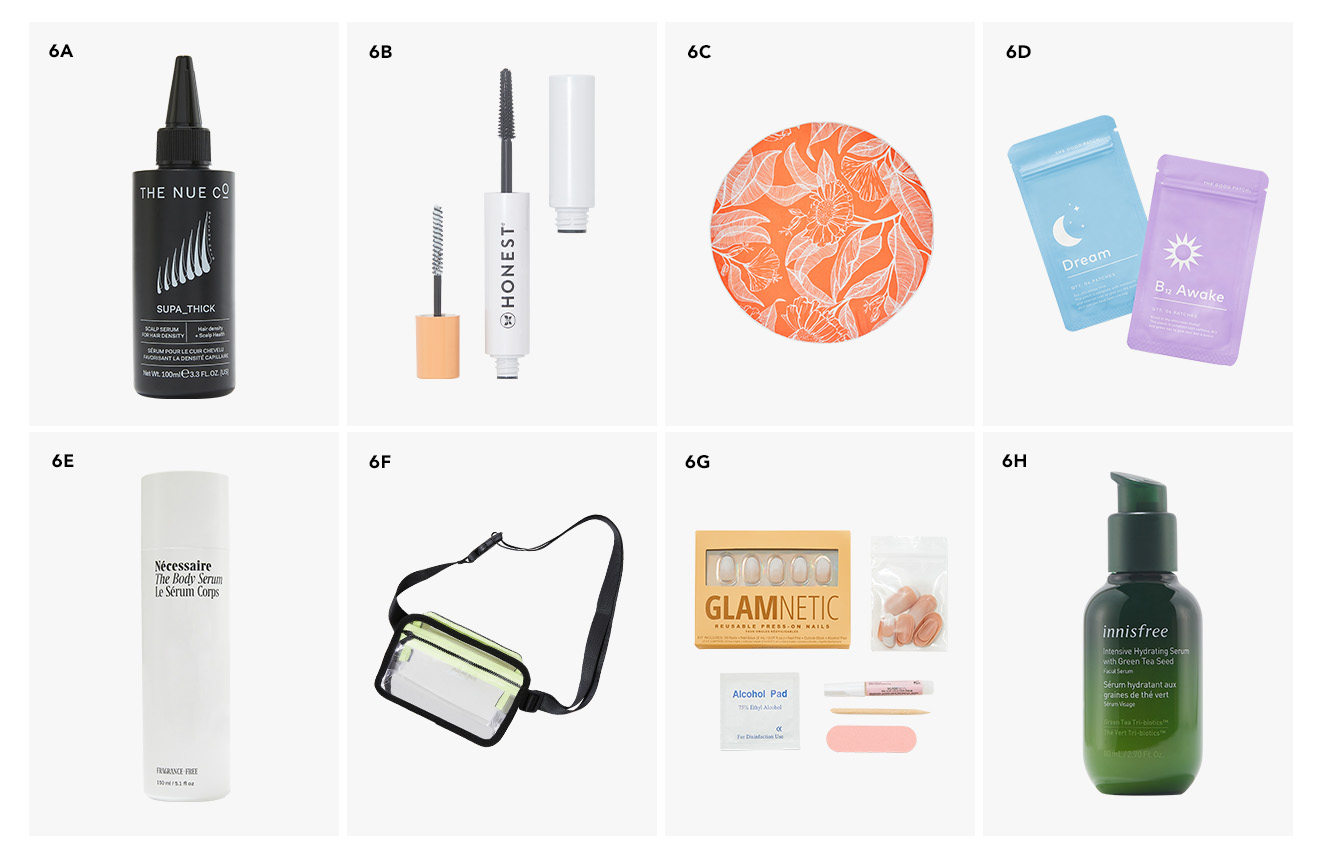 6A. The Nue Co. SUPA_THICK ($45 value)
Get to the root of your hair issues if you're experiencing hair loss, loss of growth, or breakage. Patented follicle technology, along with prebiotics and probiotics work together to bring back luscious locks.
6B. Honest Beauty Extreme Length Mascara + Lash Primer ($17.99 value)
This is the truest way to make your lashes look like falsies. This is a mascara and primer in one, meaning long, healthy lashes are easily attainable with each swipe! The double-ended design goes to great lengths to make your eyes pop. High quality ingredients like Jojoba Esters condition each lash for long lasting nourishment and results.
US only
6C. Summer & Rose Outdoor Roundie ($25 value)
You'll be making the roundies to all the fun springtime events with this Customization 6 pick! Create the perfect space for your friends and fam to enjoy the springtime sun, and the adorable design is an added bonus!
6D. The Good Patch Rise and Shine Set – B12 Awake and Dream ($24 value)
Get a burst of energy and make it through the day with these Awake patches that contain caffeine, Vitamin B12, and Green Tea. The nighttime Dream patches have melatonin, hops, and valerian root to lull yourself into a dreamy, restful slumber. They're the easy way to get exactly what you need, no matter the time of day.
US only
6E. Nécessaire The Body Serum ⏳ ($45 value)
Hyaluronic acid isn't just for your face! This product is brimming with ingredients normally reserved for the face, so you can show your skin some love after the cold winter months with this fast-acting, rehydration serum. It's lightweight, non-greasy, and the best way to feel refreshed and rejuvenated as we start the new season
6F. FFF Fanny Pack ($25 value)
This FFF swag is swoon-worthy, and is as adorable as it is functional! Take all your necessities with you for a fun day out in the sun. The clear pouch allows you to find all your items quickly and easily, so whether you're prepping for a hike or heading to a festival, this will be your trusty companion.
6G. Glamnetic Reusable Press-On Nails in Creamer ($19.99 value)
Don't miss out on the first press-ons we've had in a seasonal box! Manicures are made easy with this kit that comes complete with everything you need for a salon-level mani at home. The gorgeous neutral shade is the perfect complement to any outfit, and you can enjoy them for up to two full weeks at a time!
US & CA only
6H. Innisfree Intensive Hydrating Serum with Green Tea Seed ⏳ ($28 value)
Get long-lasting, all day hydration with this effective serum that's sure to find a permanent spot in your regimen! It's packed full of ingredients that deliver 24-hour hydration and improve the skin's moisture barrier.
Love what you see but not a member yet? Join now with the code GOODIESGALORE for $10 off your first box, and start getting your dose of happiness delivered straight to your door!
xx, The FabFitFun