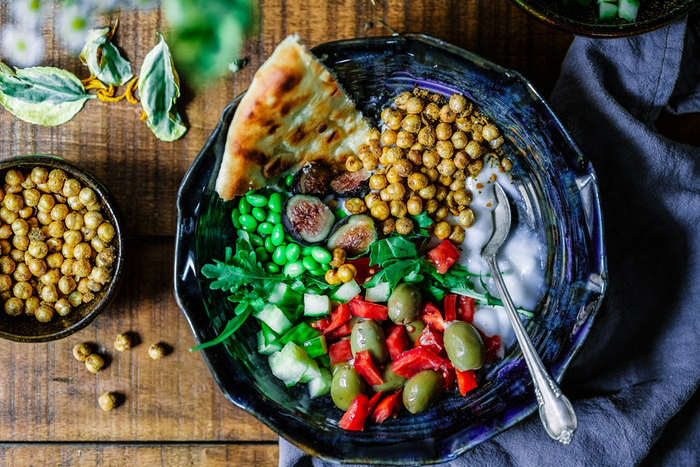 Feature Image by Edgar Castrejon
While it might seem nearly impossible to give up pizza, cheesy burritos, or your favorite juicy burger, going vegan isn't as hard as you'd think as there are plenty of vegan dishes that taste just as good (try one of the mouth-watering vegan recipes on FabFitFunTV!).
Not only that, the plant-based diet offers tons of health benefits like improved energy, digestion, and lower risk of heart disease. Still not sure about going vegan? These experts will tell you otherwise.
Stay full (and feel lighter)
Some argue that a plant-based diet keeps them energized without getting hungry throughout the day. "I chose to go vegan because it makes me feel lighter while still feeling full and therefore allows me to go farther on long distance runs," says vegan chef and marathon runner LaForce Baker. "I like to incorporate beans and meat alternatives before a run because of the protein and healthy fats. Before, it was hard for me to run a few blocks, [and] now I can pretty easily knock out several miles."
Eat more veggies
A vegan diet is chock-full of healthy fruits and veggies, which are good for your skin, heart, digestive system, energy, and more. "You don't often hear doctors or health groups telling you to eat more meat, but they always tell you to eat more vegetables and fruits," says Priya Rao from What Priya Said. Not to mention, fueling up with healthy and sustainable food sources has also proven to help people stay full longer and lose weight.
Explore new recipes
Following a vegan diet might mean forgoing some of your favorite foods, but it'll also inspire you to try tasty dishes you might've totally missed out on otherwise. "Exploring the vegan food scene is a great way to get out of the doldrums of your typical cuisines and try exciting new, hip restaurants and dishes," says Chelsea Gilson from Organic Travel.
Improved well-being
Liz MacDowell, a cookbook author and the founder of meatfreeketo.com, believes eating a plant-based diet might help you feel better than you ever have before. "So many of us don't even realize how tired, nutrient-deficient, and dehydrated we are — it's just our new normal. Veggies, fruits, nuts, and beans not only provide the vitamins and minerals necessary for our bodies to perform their basic functions, [but] they also tend to be water-rich and help us stay hydrated. I think pretty much all of us could benefit from eating more of these nutrient-dense foods, and giving a vegan diet a try is a great way to accomplish this!"
Reduce ecological footprint
Many vegans say that reducing the impact their diet has on the planet is a good enough reason to give up animal products altogether. Tabby Farrar from the vegan lifestyle blog Just Can't Settle explains that "prior to veganism, I was vegetarian. There have been numerous reports from places like the United Nations and World Health Organization about how unsustainable it is to eat meat, and you can choose to help reduce the amount of land use and water use involved in your everyday food purchases. Going vegan is better for people, animals, and much better for the planet, so I say there's no reason not to at least give it a try if you can."
Not sure where to start? Check out FabFitFunTV for easy and healthy vegan recipes!
xx, The FabFitFun Team