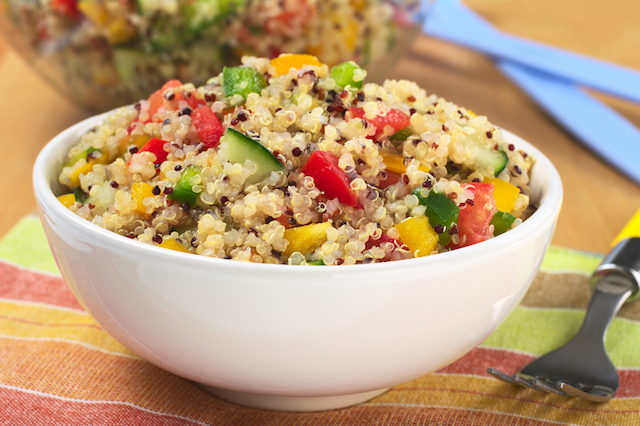 Feeling a bit guilty after your not-so-healthy Easter indulgences? Yea, us too. That's why today we're giving you this ultra light, and protein-packed quinoa salad perfect for giving you energy and nutrients!
Quinoa is an excellent (and tasty!) source of plant protein, that is super versatile. Today, we're bringing it to you in salad form, with bright lemony flavors and organic veggies. Eat this salad post or pre-workout for optimal butt-kicking benefits! A big bowl of this salad goes a long way too. Make it in advance for a quick lunch to take with you to work — easy, healthy, and simply delicious!
QUINOA SALAD RECIPE
Ingredients
1 cup of dry quinoa
1 1/2 cups of water
1 cup chopped mix of yellow and red bell peppers
1/2 cup chopped tomatoes
1/2 cup chopped cucumbers
3 gloves of garlic, minced
1/4 cup of extra virgin olive oil
3 tablespoons red wine vinegar
2 teaspoons agave nectar
2 teaspoons fresh-squeezed lemon juice
Salt and pepper to taste
Directions
1. Rinse and drain the quinoa, then add to a pot on medium-high heat and let toast for about 2 minutes.
2. Add the water to the pot and bring to a boil. Once boiling, reduce heat to a simmer, cover pot, and cook for 15 minutes. Once done cooking, take off heat, and let the quinoa sit in covered pot for 10 minutes.
3. In a small bowl, whisk together lemon juice, vinegar, extra virgin olive oil, agave, garlic, and salt and pepper to taste to make the dressing.
4. Once the quinoa is finished resting, remove cover and fluff with a fork.
5. To the quinoa, mix in the veggies, dressing, any more salt and pepper to taste you want to add, and chill in fridge for about 10-20 minutes.
xx, The FabFitFun Team