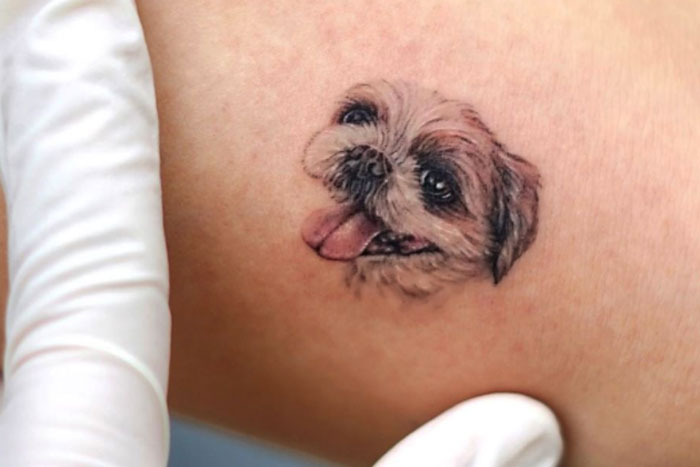 Feature Image by @w_inkstudio
Teeny tiny tattoos have been on the rise for years. While dainty floral details, itty-bitty constellations, and finely-scrawled quotes never go out of style, Instagram has been making us well aware that pet tattoos are more popular than ever.
With tattoo techniques ever-improving, nowadays you can get pet tattoos with such precise artistic detail that it will look like your pet is quite literally on your skin. It's especially wonderful for those looking to honor their four-legged babies once they've passed on.
So, whether you want to pre-emptively ink a permanent pet tattoo or get one in your furball's honor after they've crossed the rainbow bridge, ahead you'll find 15 of our favorite cute pet tattoos from the 'gram.
Black Border Collie
This border collie beauty was inked by none other than Korea-based Churly of W_inkstudio.
---
Cherry Blossom Dingo
This little dingo is sweet as can be.
---
Frenchie Feels
This life-like tatt was created by NYC-based artist Wicky Nicky of West 4 Tattoo.
---
Kitty Column
Here's a great way to honor the pets in your life. You can add as many as you'd like to your very own arm totem.
---
Corgi Poppy
Want to give your pet tattoo a dainty touch? Add your favorite flower next to its portrait.
---
Gray-Faced Pupper
We love this little black and white tatt that showcases the sweet nature of this elderly pup.
---
Precious Pup
This glassy-eyed pup is too cute for words. Again, we're shown what a master inker Churly is.
---
Pups in a Row
Want to show off more than your pets' faces? Consider inking their entire bodies.
---
Best Pals
If your pet is always by your side, perhaps create an illustration to show off that bond.
---
Cat Cuddles
Love seeing your cats all cuddled up? Why not permanently etch the loving embrace on your body?
---
Teeny Collie
How adorable is this itty-bitty collie?
---
Cats and Dogs
This cat and dog stack has doll-like qualities that are cute as can be.
---
Royal Fur Babies
If your pets are princes and princesses in your world, why not give them everlasting crowns in your tattoos?
---
Heart-Shaped Corgi
This little linework pup is not only chasing a heart but its very body is in the shape of one.
---
Shadow Cat
With well-shaded shadows and life-like details, this pet tattoo looks unbelievably real.
xx, The FabFitFun Team