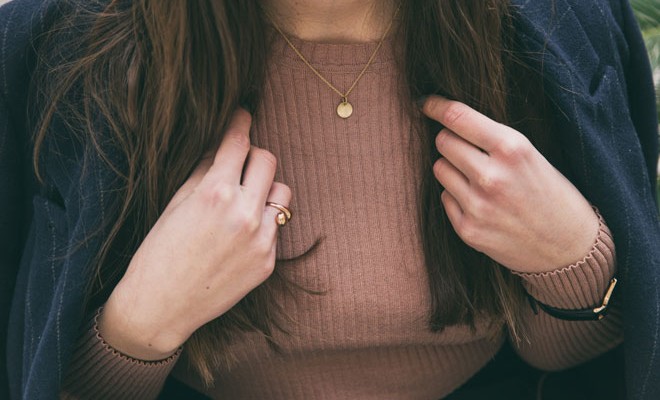 Jewelry trends come and go, but one that's definitely around to stay is the pendant necklace.
Most pendant pieces consist of a thin, delicate chain paired with a simple stone, plate, or hoop.  Not only are they great for layering with other necklaces, but they also shine when worn alone.
Shop our favorites below (that happen to fall in every price range):
Thegemco Turquoise and Gold Stone Pendant $28
A little color is always a good idea, especially when it comes in the form of a gorgeous turquoise pendant. Each stone from this Etsy seller is unique in size, shape, and color. Add this affordable investment to your collection ASAP.
---
Garmentory Talon Gold Necklace $100
Wear your sign around your neck in this stunning piece. The necklace is meant to inspire and celebrate the spirit inside the wearer. You'll look great and feel better when you have this trinket on.
---
Nadri Geo Small Pendant Necklace $50
Add this sweet layering necklace into your mix for a bit of glam. The pendant is 18k gold and sits on a delicate chain necklace that will complement any other accessories you might be wearing.
---
Mulberry and Grand Gold Circle Necklace $22
Looking for an easy, everyday pendant? You've met your match. This 24k gold pendant is simple enough for daily wear and is a great companion for any other gold jewelry you like to wear on a regular basis.
---
Soko Hewa Pendant Necklace $85
Try a unique take on a pendant with this piece. The open-ended brass hoop looks stunning, especially with the fringe tassels and long, thin chain. This is a subtle way to add a little glitz to your outfit without going overboard.
---
Swarovski Circle Pendant $89
Add a touch of elegance to your look with this classic Swarovski crystal pendant. We love the double hoop, classic pavé style, and length of the chain. Put this on for your next dinner date and prepare to radiate all night.
---
Mejuri Positivity Necklace $89
Made with gold vermeil, this gorgeous necklace is engraved with the word "positivity." It also features a genuine citrine stone, which magnifies good energy and positivity. Now who would want to wear that around their neck?
---
J. Hannah Initial Signet Pendant $220
Everybody loves a personalized piece — make your identity marker a subtle and timeless one with a gorgeous hand engraved pendant. The 20-inch chain is a great length for everyday wear and comes in white, yellow, or rose gold and silver.
---
Mango Pearl Pendant Necklace $7.79
This is a unique necklace that anybody can pull off. The classic pearl detail makes the design intriguing and modern.
---
Nashelle Petite Ija Zodiac Necklace $88
Show off your sign with a cute zodiac necklace that doesn't scream "I read my horoscope every morning." This pendant is small, dainty, and will help you look your best — yes, even when Mercury is in retrograde.
---
Serefina Safari Pendant Necklace $54
A glamorous piece for a doable price, you'll want to snag this pendant immediately. We love the glass stones that are shaped into pendants, and the interesting chain with unexpected details.
---
Kate Spade Infinity & Beyond Knot Mini Pendant $58
Shiny and sweet is the name of the game when it comes to this mini pendant. We love the symbolism and how delicate it looks, especially when it sits solo on your chest.
xx, The FabFitFun Team