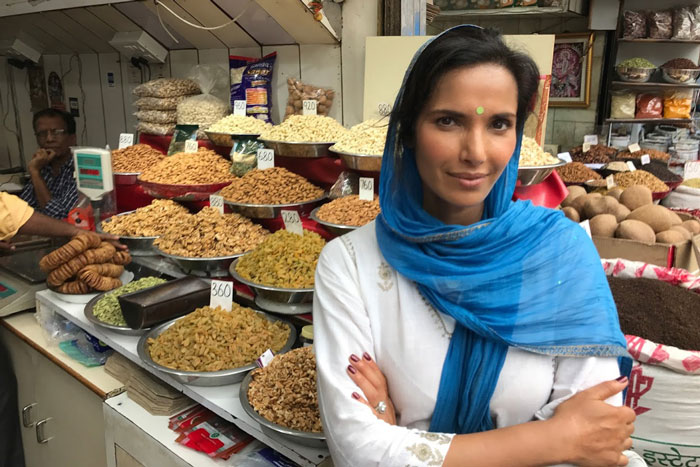 Image Courtesy of Padma Lakshmi
Through her show, Taste the Nation, Padma Lakshmi has found that food brings a universal, shared sense of comfort and joy.
Even though she's been adjusting to the "new normal" with her daughter Krishna, she's finding ways to appreciate small yet joyful moments through home-cooked meals.
Ahead, Lakshmi shares what she's looking forward to this fall, how she finds her confidence, and the top spices everyone should have in their kitchen.
As we're all adjusting to a "new normal," how are you going to look at fall differently this year?
I think this year has been tough on all of us for so many reasons, but I do think there are silver linings in that we have appreciated and have really learned how to prioritize what's important.
Right now, it's about taking care of each other, making each other laugh, [and] doing things that are nurturing — both for others and to ourselves. This holiday season we may not be able to get together in large groups to celebrate as we usually do, but we can harvest the joy in simple things with a smaller group of those we love.
View this post on Instagram
What are some recipes you look forward to cooking with Krishna this season?
I'm excited to make khichdi with her. It's a comforting South Indian porridge of rice, lentils, and other vegetables. There's also a dish I cook with my mom called rasam, which is a sour tomato and tamarind soup. It comforts us in the same way chicken soup would.
Congrats on Taste the Nation! What is one thing you hope viewers take away from the show?
I hope that people who watch the show come away feeling that we are all much more alike than we are different. I hope they gain a better understanding of some of these immigrant and indigenous communities and appreciate their contribution to what we know as "American" cuisine.
What do you think it is about food that brings people together?
Food is a way to express your love to family. Sharing dishes and recipes and family history creates intimacy. We learn about each other through the food we cook and eat. We all have such warm and deep memories attached to food. It can be a great way to rekindle that nostalgia and comfort.
View this post on Instagram

You personally chose No Kid Hungry as this season's charity. Why is this charity important to you?
I love No Kid Hungry because they help ensure that children get the nutrition they need, like healthy breakfasts at school and free food during the summertime. I hope that people who watch the show come away feeling that we are all much more alike than we are different. I just think kids deserve an equal chance at creating their own success, and that's better achieved with a full stomach.
What words of encouragement do you have for women who find it hard to celebrate their achievements?
I feel that women have been taught to downplay their achievements and not to brag, but if you're proud of your work, then feel free to express it! When you look back at your life, you'll want to remember those moments and cherish them. It's important for the psyche to enjoy achievement. There's a rush waiting for you at the end of your quest.
You're so comfortable in your own skin. How did you build up that confidence throughout your life?
I feel more confident in my 40s than I ever have. I think it comes from having a better understanding of the world and my place in it. I have the confidence now to voice things that I wouldn't have 20 years ago. I feel secure in my convictions and my achievements.
Top five spices everyone should always have in their kitchens?
Thyme, oregano, sumac, za'atar, and Maldon or fleur de sel.
Any exciting projects coming up?
I'll be shooting Top Chef shortly! But I can't say where yet! It's a secret. I'm also working on a children's book that will be published next year.
xx, The FabFitFun Team