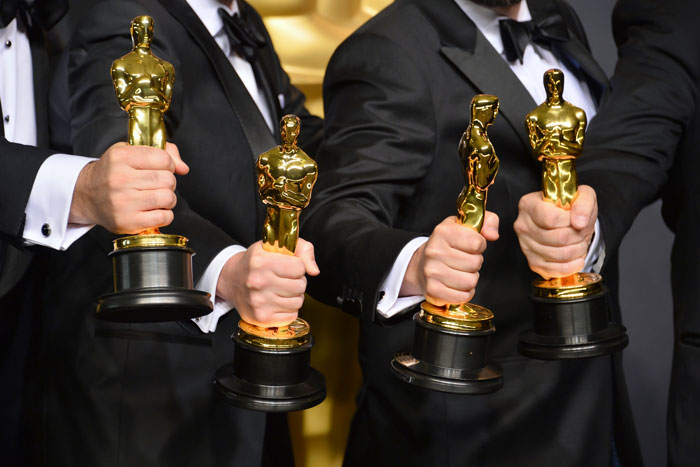 With Oscar season comes Oscar games (because what else are you going to do before and after the viewing party and during commercial breaks?).
If you're hosting a party this year, you should consider organizing a game or activity to keep your guests entertained. Check out our favorites below:
Oscar's white elephant
Super simple yet very rewarding — add a small twist to a classic. First, make sure everyone participating brings one prize like a DVD or a movie voucher. To play, everyone draws a number, just like in a traditional game of white elephant, and during every commercial break, the next person gets to pick and/or steal a gift.
Oscar's bingo/drinking game
Come up with a funny list of terms or phrases that have been popular in the media lately. Some suggestions include fake news, finesse, or goat. You can either create a bingo board with all of the terms or have everyone drink (alcoholic or not!) every time one of the words is said.
Oscar ballot box
As everyone arrives, have them fill out a ballot of who they think deserves to win in each category. At the end of the Oscars, the person with the most correct answers wins a prize (perhaps an Oscar movie bundle with a lot of snacks!).
Oscar party awards
Rather than voting for the Oscars themselves, create a game involving everyone at the party. If your party is themed, this will be even more fun. Create a list of your own superlatives, such as Best Dressed, Most Movie Knowledge, Most Likely to Marry an Oscar Nominee, and more. Then at the end, have everyone vote (bonus points for buying mini trophies!).
Oscar winners trivia
At the start of every category during the Oscar's, ask a trivia question about past winners. For instance, "This film was accidentally announced as the winner of Best Picture last year," and the person with the most correct answers wins a prize.
xx, The FabFitFun Team