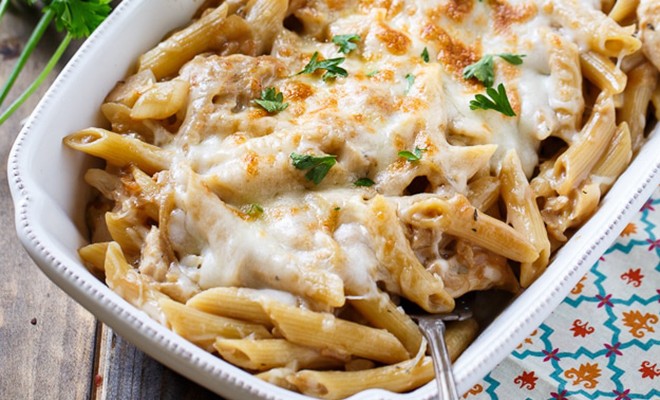 spicysouthernkitchen.com
Onions: the veggie that can make you cry and make your meal one of the best at the same time. While the veggie is in so many familiar dishes, we wanted to find "onion centric" recipes — the kind where the onion is the main attraction.
Here are our top picks for all of you onion lovers out there:
Potato Bagels With Butter-Glazed Onions
Start your day with these delicious homemade bagels topped with buttery onions. Add your favorite herbs for an extra kick and top it off with some cream cheese…bon appétit!
---
Pizza With Caramelized Onions, Ricotta, and Chard
There's nothing better than a pie made from scratch. Impress your guests with this delicious pizza topped with caramelized onions over a creamy, cheesy sauce. These slices will start disappearing as soon as they're up for grabs, so make extra!
---
Rustic Onion Tart
If you're a red onion fan, then you'll love this crispy tart. You can use a ready-made crust or knead your own depending on how much time you have to cook. The thyme, onion, and Gruyère taste fantastic together, especially as a late-night snack.
---
Gluten-Free Onion Rings
Looking for a crunchy, savory, yet sweet appetizer or snack? Enter our new favorite recipe. Indulge in this comfort food without feeling too guilty — these rings are made with vegan and gluten-free ingredients.
---
French Onion Pasta
You're looking at your new go-to recipe. The pasta version of French onion soup is simple, delicious, and has all the flavors you could ever want in a dish. Plus, who could resist that cheese?
---
Cheddar Bacon Green Onion Biscuits
Biscuits are always welcome on our table, especially when they're made with bacon, cheddar, and green onions. Prepare to become addicted to these rolls that are perfectly moist and flaky at the same time.
---
Fresh Tomato and Caramelized Onion Jam
Your charcuterie plate just got the upgrade it needed. This jam is a fun mix of delicious flavors and easy to make. Use heirloom tomatoes if you're looking for something a little sweeter or Romas if you want a stronger tomato flavor.
---
Avocado and Onion Salad
Switch up your side salad with this avocado and onion mix that's light and tangy. You only need five ingredients for this simple recipe — easy to make and easy on the wallet!
---
Pear and Caramelized Onion Galette
This delicious French dish combines your favorite veggie with pears, pecans, and blue cheese. Get ready to wow your friends each time you whip up this galette!
---
Homemade French Onion Dip
Dips are notoriously unhealthy and high in calories, but not this French onion version. This simple recipe is sure to please the masses and only requires six ingredients…definitely a winner in our eyes!
xx, The FabFitFun Team