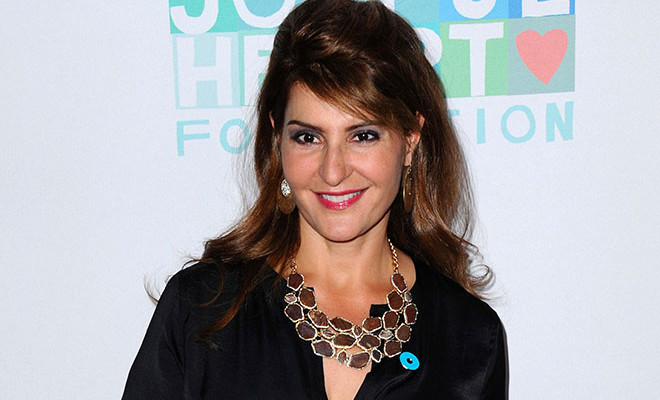 My Big Fat Greek Wedding might be one of the best films of all time. It's quotable, laugh-out-loud funny, and has a larger than life cast (and it introduced us to new uses for Windex, obviously).
The romantic comedy captured everyone's attention in 2002 and left us wanting more (and more and more). Now 14 years later, Nia Vardalos has delivered what the people want and My Big Fat Greek Wedding 2 is hitting theaters March 25. We sat down with the actress/screenwriter to discuss the new film and how in the world Windex scored a major role in the films.
Were you always planning on a sequel and when did you decide that now was the time?
I absolutely said no to the sequel from the beginning. I understood that I disappointed some people, but I felt that I had to do what I felt was the most healthy choice. At the end of the first movie I had written my character as a mom, but in reality, I was in a very private quest to become a mom — which took about a decade. Luckily, I did become a mom and on my daughter's first day of kindergarten, I got the idea for the sequel and started writing.
The first movie was a huge success. Were you expecting it to be such a hit?
I remember when we filmed the movie, I said to John Corbett [Ian] that I would have been happy if it was shown in Greek church basements across America. So, everything that happened after that was crazy.
How did your family experiences and traditions inspire the script and scenes in the movies?
I definitely draw from my family. I like to take notes and put it in the movie, but I make up a lot. There are things that aren't based on reality — I just like to push it.
Why Windex and how did this come about?
My dad. He really did use it! When I was growing up, he accidentally got Windex on a wart on his hand and the wart magically went away. So he started using Windex on everything. If his elbow ached, he soaked it in Windex. If I had pimples from puberty, he would say, "Put some Windex on it!" I didn't realize how ridiculous it was until I went to college and told my friends these stories. So naturally I put it into the first screenplay and of course it has to appear in the sequel, because as they say in the tagline, "People change, but Greeks don't."
Do you use Windex in real life?
I do! I use Windex on my patent leather purses and it makes them shine to perfection.
How was it like getting the cast back together?
Everybody came back and it was amazing, beautiful, fun, and loud. There was the constant smell of garlic in the air; it was like being with my own family.
Did the cast keep in touch in between the movies?
Yes, we have seen each other through the years. John Corbett and I are very close friends and the women are all very close. Gia Carides who plays Cousin Nikki is like a cousin. Andrea Martin lives in New York, but would visit Los Angeles and we would have dinners. We are all very close, but I would barely get the fork to my mouth before Lainie Kazan, who plays the mom, would scream, "Why aren't we doing the sequel?!"
xx, The FabFitFun Team