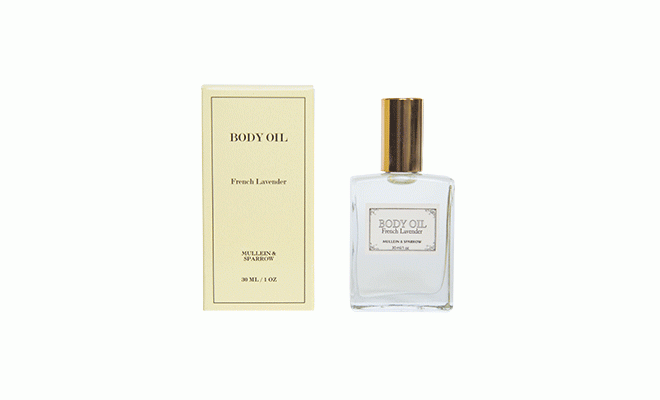 Is there anything this body oil can't do? Formulated with the healing, meditative scent of pure lavender essential oil from France, this is your go-to oil for calming both your skin and your senses. Use as a daily moisturizer and to self-massage each morning and evening. Retail: $18
How to Use Your Mullein & Sparrow Oil:
Pour a small amount into bathwater for a luxurious spa-like experience. Enjoy the aromatherapy benefits as you soak in lavender and vitamin E.
Use as a moisturizer after cleansing your face. Apply a few drops to your palm and rub into your skin and breathe in the lavender.
If you have any sore spots from working out, pour a few drops onto your palm and massage into the area with long, circular strokes.
After you bathe, apply small drops and rub a drop of oil behind your ears, on your neck, and on the inside of your wrists.
Check out more fab picks from Mullein & Sparrow:
Follow Mullein & Sparrow on social!
---
Mullein & Sparrow is just one of the amazefest goodies in our latest FabFitFun box. For more of our must-have fall finds, click here!