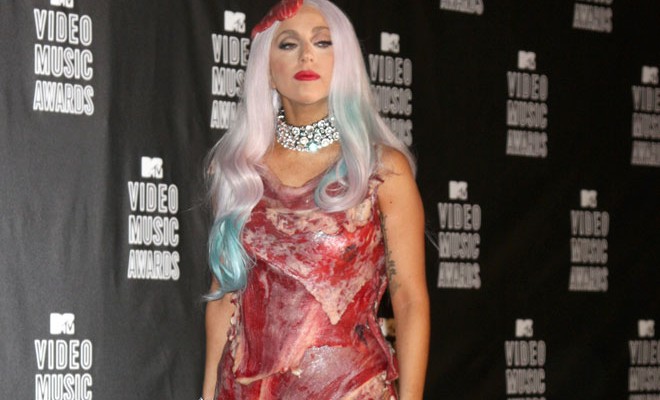 SPONSORED BY MTV VIDEO MUSIC AWARDS
One event that never fails to spark winning headlines is the MTV Video Music Awards…think music and celebs with a side order of drama.
While MTV was once our go-to for music videos, it still acts as the central hub for artists to make their mark on pop culture. Although the unscripted night often calls for some controversy, it grants the host and performers the freedom to declare their own artistry, thus helping to shape pop culture.
From Kanye West's infamous interruption during Taylor Swift's acceptance speech to Queen Bey's pregnancy announcement, you can bet this year's show is going to be as historic as previous years. Don't forget to tune in Sunday, August 27 at 8 p.m. ET/PT for another iconic night.
Meanwhile, join us as we take a trip down memory lane and highlight 10 unforgettable moments in MTV VMA history.

Britney Spears and a python (2001)
We're kicking it off with the time Britney Spears performed "I'm a Slave 4 U" with a Burmese python around her neck. Not only did it inspire thousands of Halloween costumes, it also dubbed snakes as a "sexy" reptile. Although Spears was already growing in popularity at the time, this unique performance helped her skyrocket into the spotlight.
---

Lady Gaga's meat dress (2010)
Lady Gaga completely redefined fashion when she wore a dress made entirely out of meat. She went on to explain the next day that she had no intention of disrespecting vegans and vegetarians. As a vegan herself, she justified her fashion choices by stating it was her way of saying, "I'm not a piece of meat."
---

Madonna performs "Like a Virgin" (1984)
We're throwing it all the way back to the very first VMAs when the Material Girl performed "Like a Virgin" in a wedding dress. Her iconic performance set the precedent for all future VMA performances to come.
---

Michael Jackson's awkward kiss with Lisa Marie Presley (1994)
Quite possibly one of the most awkward onstage kisses…the King of Pop made his relationship with Lisa Marie Presley public at the 1994 VMAs. He shared a kiss with his then-bride, but fans were quick to comment that it seemed more forced than it should have.
---

Kanye West interrupts Taylor Swift (2009)
We can't forget about the time Yeezy jumped on stage during Taylor Swift's acceptance speech. The speech went viral and even inspired songs from T. Swift and West including "Innocent" and "Runaway." Their white flags were quickly withdrawn after Yeezy's release of "Famous." Who knew this would be the start of a seemingly lifelong feud between the two artists?
---

Madonna, Britney Spears, and Christina Aguilera's kiss (2003)
2003 marked yet another VMA that went down in history. Britney Spears and Christina Aguilera joined Madonna on stage to perform "Like a Virgin" and "Hollywood." To top it all off, Madonna kissed both Spears and Aguilera for an epic moment in pop culture history.
---

Beyoncé announces pregnancy (2011)
Queen Bey blew everyone away after she finished her performance with a mic drop and unbuttoned her jacket to rub her belly. Her pregnancy announcement became one of the most popular memes as we all awaited the birth of Blue Ivy. Plus, how adorable is Jay-Z's reaction?
---

Kanye West claims he's running for president (2015)
Kanye West had the honor of receiving the Michael Jackson Video Vanguard Award, but it was his acceptance speech that made headlines (#kanye2020, anyone?).
xx, The FabFitFun Team