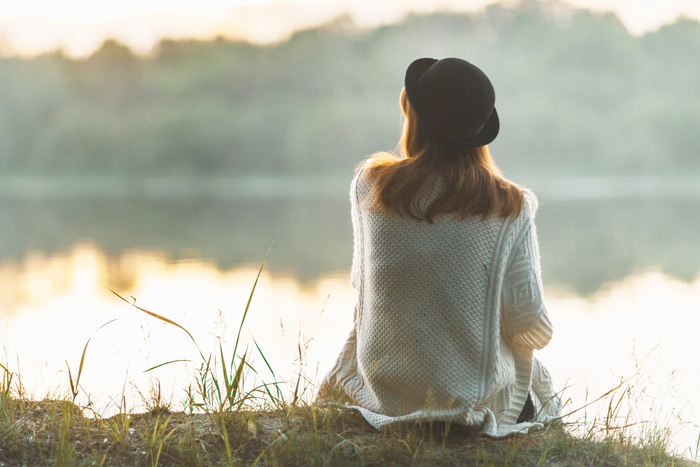 In the chaos of our always-busy world, slowing down to take a moment to breathe is more important than ever. Small mindfulness practices can help create these much-needed moments and improve your overall mental health over time.
If you're prone to anxiety, stress, or feeling overwhelmed, try the quick mindfulness tips from professional therapists below.
Take time to observe
Lana Seiler, a licensed clinical social worker and primary therapist for the trauma program at All Points North Lodge, explains how difficult it can be to see clearly when we haven't fully examined ourselves. To help understand why we're feeling stressed or which needs aren't being met, she suggests basic mindfulness meditation to check in with yourself. She says, "To start, [take] three to five minutes of quiet time to 'go inside' or 'notice.' Just sit and be for a few minutes." Those quiet moments can help you unplug, calm any worries you may be feeling, and give you a little space between yourself and your stress.
Take breaks to breathe
If you don't like meditating, try taking 10 two-minute breaks to breathe instead. Even though it's short and sweet, it can still be effective in helping you ground yourself. Trauma therapist Ryan Soave suggests, "Breath seven times, in and out through the mouth, as slow as you can." Why? Soave explains, "Our breath regulates our nervous symptom and experience. There is a breath pattern for every emotional and mental state. If you want to change your mind, change your breath."
Set a morning intention
Licensed clinical social worker Ashton Dunphy explains that many people rush out the door and into their day without imagining how they want it to go. Setting your mind to the goal of an intention for the day can help you better navigate challenging circumstances as they arise. She says, "Our thoughts affect our emotions, which affect our behavior." Start positive, resolve positivity, and maintain it. As Soave says, "It's much easier to stay dry during a rainstorm if you plan to bring a raincoat and umbrella."
Close the evening with G-L-A-D
Just like a great team would debrief after an eventful day at work in order to regroup, refocus, and strategize, you can do the same for yourself. Licensed professional counselor and licensed addiction counselor at All Points North Lodge Nanami Matsui shares, "In the evening, right before going to bed, I do GLAD. G is for gratefulness – what I am thankful for from the day. L is learning – what did I learn today? A is achievement – what did I accomplish today? D is delight – what made me happy today?" Stress can pile up and overwhelm the joys of life. So as you sort through what could have gone better, don't forget to enjoy the simple pleasures too.
xx, The FabFitFun Team