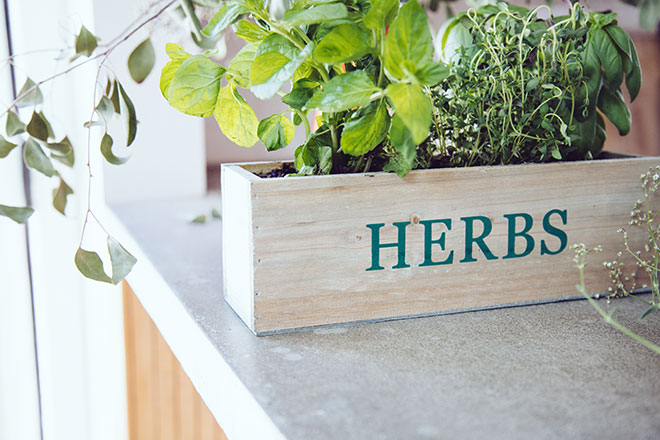 You and this Herb Kit are mint to be! OK, OK, we'll stop, but you should seriously exercise that green thumb this spring. To help you get started on your DIY adventure, we got some sage tips and tricks from MakersKit founder himself, Mike Stone.
How did you come to create MakersKit?
I have always been passionate about the arts and making things with my own hands, which led to working as a volunteer art teacher. There's an amazing feeling you get when you make something from scratch. I started MakersKit two years ago to share that feeling with everyone and to inspire a little creativity. And to continuing giving back, I teamed up with Pledge 1% and P.S. ARTS to give art supplies to public schools for every kit we sell.
Why do you think people are so obsessed with DIYs?
There's a unique sense of accomplishment you get from making something with your own two hands. It's also great knowing what goes into the foods you eat and the products you use on your body. DIY projects bring people together and are great for families, team building, and even as a fun idea for date night. It's all about new experiences and learning something new while having fun.
What inspired your Herb Garden DIY Kit collaboration with FFF?
Herb Garden MakersKits were some of the very first DIY kits I created when I started the company. Growing fresh herbs right in your kitchen is convenient, inexpensive, and good for you.
What's your best advice for taking care of your herb kit?
The kit is great for the first time gardener! It includes everything you need — just add a little water and place the planter near a window inside your kitchen. Avoid over watering and just keep the soil slightly damp to the touch, not wet or muddy. Within a few days you'll have your first seedlings!
What are some of your favorite dishes to make with herbs?
Basil is so versatile. It adds a bright, fresh favor to any dish. Make a simple Caprese Salad by combining mozzarella and tomato, drizzled with olive oil. Another easy favorite of mine is a bánh mì Vietnamese sandwich using a baguette, grilled pork, pickled carrot and radish, finished with fresh basil and cilantro.
We know you're a total expert, but have you ever had a DIY fail?
Absolutely! Some of my best ideas come from things that started out as DIY fails but eventually became a win with a little hacking. A big part of DIYs is making mistakes and learning from them. I think you should never be afraid to try something new.
xx, The FabFitFun Team
P.S. Psst! Have you signed up for the #FabFitFun box yet? Don't miss out on $200+ in amazing beauty, fitness, fashion, and lifestyle products every season. Join today!
To get the most out of your box products, make sure to check out the VIP Insider page.