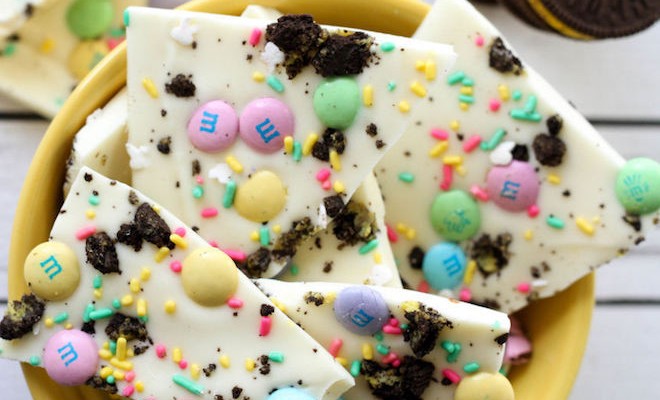 lilluna.com
Are you in charge of bringing the desserts to your Easter gathering, but haven't thought twice about it?
Don't take the easy way out and resort to buying a pre-made treat. Try making one of these delicious Easther-themed desserts you can make the night before or even the morning off — because each recipe doesn't have an insane list of ingredients or require any special baking tools. Even better, we found a handful of no-bake recipes. #yourewelcome
From cheesecake to a pastel s'mores dip, you'll find a recipe perfectly suited for Sunday. Happy Easter!
Spring Marshmallow Krispie Treats
Gooey bars + Easter candy = a yummy dessert you can whip up in no time! Give your traditional treats a holiday boost with pastel colored M&Ms, sprinkles, or even mini Cadbury Eggs. Nobody will be able to resist a taste of these!
---
No-Bake Cadbury Egg Cheesecake
You'll be shocked to know that this Easter masterpiece doesn't require a bakery to be assembled. Make this delicious cheesecake at home — the small ingredient list and no-bake aspect sounds extra appealing to us!
---
Easter Cheesecake Strawberries
This easy snack is the perfect treat in between meals or Easter egg hunts. You only need three ingredients besides the crackers and strawberries! Make it on Saturday night or Sunday morning and add the bunnies before serving, so they don't get soggy.
---
No-Bake Easter Dessert Tray
This tray is the perfect addition to any dessert spread, especially when you're making it the last minute! There is absolutely no baking required and you just need to be able to artistically arrange the cookies and pretzels (we're kidding). Bonus points if you get funky with the design!
---
Brownie Bird Nests
Pull that brownie mix out of your pantry and get baking! Grab a bag of candy eggs to place on top of the "nest" and voila! You have yourself a bonafide Easter treat that nobody will be able to pass up. If you have "extra" time, add pretzels and a little icing underneath for a more elaborate nest.
---
Easter Peeps S'mores Dip
Here's a quick recipe to find a use for all of those Peeps you'll accumulate on Easter. This s'mores dip is utterly irresistible and has all of the components of the campfire snack we know and love. You can even make your own colorful Peeps s'mores!
---
Easy No-Bake Easter Cookies
An oatmeal cookie is always a good idea, especially when topped with Easter candy. You can make a batch of these in under five minutes and chances are, you already have all of the ingredients. This last minute dessert shouldn't be overlooked though — they turn out quite delicious!
---
Easter Oreo Bark
Are you as crazy about barks as we are? This pastel version is an utter delight and a breeze to put together (the hardest part is waiting for it to harden and resist taking a bite!).
xx, The FabFitFun Team