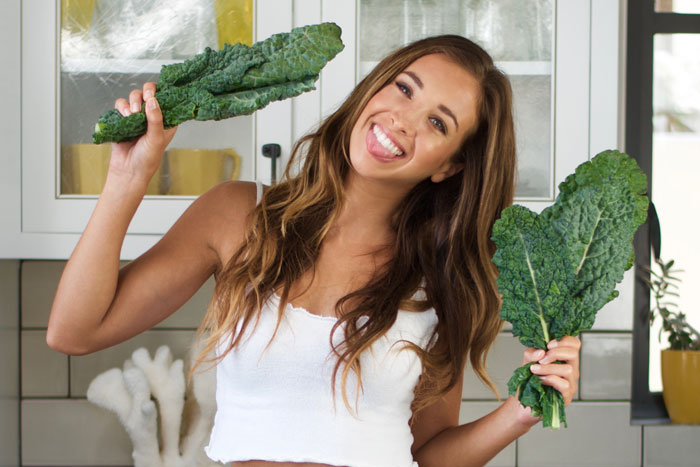 Getting fit isn't just about exercising, it's about eating right, too. And fitness enthusiast, author, blogger, and model Katie Austin is making it easy (and fun) to eat clean.
The fitness personality has not only been named one of the top ten fitness Instagrams to follow (@katieaustin), but she's also been featured as a fitness and nutrition expert on numerous television shows including The Today Show, Hollywood Today Live, The Doctors, and Home & Family — so you can rest assured that she knows a thing or two about maintaining a healthy lifestyle.
Oh, and guess what? You can find Get Fit With Katie's healthy recipes right on FabFitFunTV (so sign up today!). From recipes like Quinoa Sweet Potato Risotto to Carrot Cake Pumpkin Muffins, you'll find no shortage of easy yet tasty recipes that you can incorporate into your weekly meal rotation.
Check out what the health guru had to say about her favorite meal to cook (hint: it's a low-carb version of a fan-favorite dish!), where to find quality ingredients at the best price, and how she finds time to cook on a busy schedule.
Where do you find inspiration to create new and original recipes?
I always love a challenge when cooking. I actually find inspiration when there's [only] four or five things in the fridge. I love digging through my pantry, freezer, and refrigerator [to come] up with whatever is in there. This is when the best recipes of mine come to life!
What has been your favorite meal to cook as of late?
I know this might be old news, but zoodles. [I love] anything [with] zoodles. For those of you thinking, "what are zoodles?" It's just a veggie (usually [made from] zucchini) that are shaped in noodle form. I'm a huge Italian pasta lover, so eating pasta in veggie form saves my body from [a lot] of carbs. Plus, you can barely tell the difference. I love pesto zoodles, Asian-style zoodles, spaghetti zoodles — you name it, I zoodle it.
Any advice for working women who can't find time to cook?
Keep your recipes simple. [Simplicity] is key to eating healthy, in my opinion (no one has time for crazy recipes that include 40 ingredients!). I love creating tasty recipes with under ten ingredients [because] you can meal prep them. Most of the recipes I created for FFF are meant to be meal prepped so you can eat healthy on-the-go.
What are five ingredients you always have in your fridge/pantry?
Avocado, spinach, eggs, olive oil, and quinoa.
What kitchen item is worth investing in?
A good sautée pan. A good pan can — believe it or not — help bring flavors together and create a better texture for your food. I have pans from years ago that I got from my grandma, and I swear the flavors are better when I cook with them.
xx, The FabFitFun Team