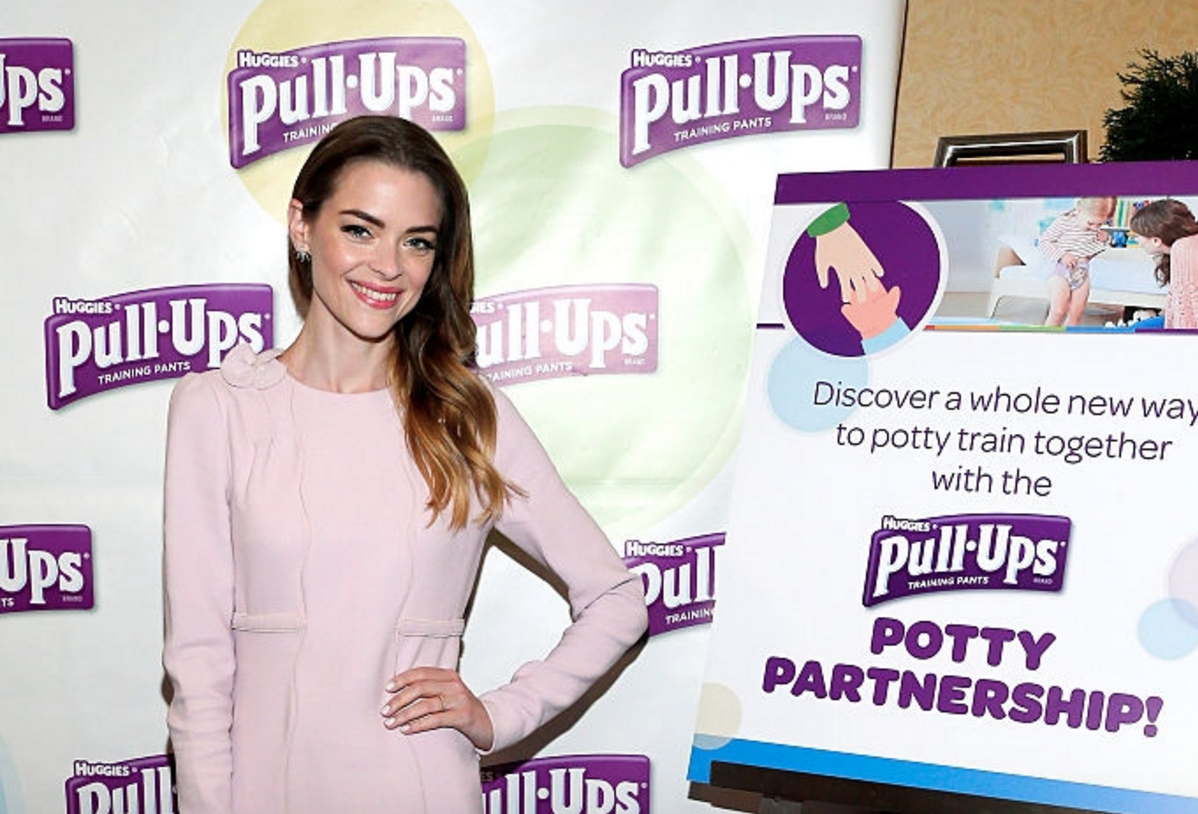 She's a mommy of two (her youngest's Godmother is the Taylor Swift), an actress, and an entrepreneur juggling two debut lines on top of her new CW series Attention Deficit Theater. And while she makes it look like a breeze in her perfect pink dress, Jaime King assures us that she's just like every other mom out there trying to figure it all out as she goes.
We had the chance to pull up a chair and chat with Jaime at the Pull-Ups #PottyPartnership launch party at Disneyland Resort to discuss this whole new way to potty train based on your child's unique personality, and to get the inside scoop on her exciting new projects.
Can you tell us about any of the funniest or silliest potty training moment you've had with James?
There really hasn't been anything crazy or wild other than the fact that he just gets extremely stoked when he goes on the potty. It's like the equivalent to me seeing the new Star Wars for the first time. He's just so proud and he builds up so much confidence. It's really kind of amazing to see such a tiny human understand and be aware of their body. When [your child] first comes out and they're in your arms and they're so reliant on you, and then you see them grow, change, and develop this personality — it's very beautiful.
Pull-Ups has a quiz to help you figure out your child's personality and determine a potty training plan. What kind of animal what was James?
When we did the quiz he was a puppy, which means he's very advanced. He's ahead of his time, he's kind of mischievous, but he takes direction well. There's been moments where he's like, "I don't want to wear Pull-Ups!" He doesn't want to wear the Pull-Ups because he thinks that he's now been fully potty trained! He's that excited about it, and Pull-Ups has made [potty training] that enjoyable.
Were you nervous about potty training? How has the experience been?
I was terrified. I was like, "I don't know what I'm doing. I have no idea." It's just been a fun experience. I looked on Amazon and there were all these books and I was like, "I don't know…Oh my gosh." When you have a child, you have no clue what you're doing. You really are walking around in the dark trying to feel for a light switcg. What I really love about [Pull-Ups] is that it's a free resource. You take a simple quiz and it gives you directions and that's that.
You have a lot of exciting projects right now! You started your line with ColourPop. Why did you want to create a makeup line?
I poured my whole heart and soul into [my line with ColourPop], and what's amazing is that it sold out in two hours. It went live at 5:30, sold out by 7:30. I created this line because I really wanted a completely gender-fluid makeup line that was also made for every single race. I was getting really frustrated with seeing my girlfriends that have say really dark skin borrow a nude lipstick of mine, and it would disappear. Why should they have to go buy something different than what I buy — or anyone else? Bottom line: I am going to make a line where it has all the essentials.
How did you make sure that this line would work for everyone?
I had up to 25 different people of every race, every shade, every color, from Asian to Persian, to light-skinned to dark-skinned. From the darkest of dark skin to like, me who's like a vampire. Every single one of my friends, a bunch of Hispanic girls, mixed-race, everything. I was like, "If it doesn't look beautiful on everybody, it's gone." And it was a really powerful experience to see a company that was willing to stand behind me and make something that's so highly pigmented and that is so high-quality, and also, at the prices that I wanted.
The line is also very accessible! Why was that important to you?
I grew up not having a lot of money. I didn't get to go to department stores — I had Wet'n'Wild and that was what I got to buy. But [ColourPop] makes vegan, cruelty-free in a brilliant factory, high-quality products. And it's $5 for a lipstick. I remember a girlfriend of mine saying, "All other makeup is dead to me." You know? She only wears my lipstick. And she's like, "These colors or just so beautiful."
What makes this line different from what's already on the market?
I kept having dreams about different things I wanted to create. I'd wake up and be like, "I had this idea for this contour and highlighting stick." (I wanted a contouring stick so that if you have dark skin it shows up — it doesn't fade or disappear. And if you wanted to make it lighter you could use Relevé which is a lighter highlighting pen to make it lighter.) And then you can also use those contouring sticks on your cheeks and on your crease and you can use them as eyeliner. You can use them as an eyebrow pencil. So everything goes everywhere. And that's something I learned from Pat McGrath and all of these great makeup artists. Then I woke up and I was getting really frustrated with, "Do I choose 75% shimmer or 25% shimmer? This kind of shimmer? That kind of shimmer?" I was like "ugh." It was really frustrating because I didn't want to [worry about] how many shimmers vs. mattes and this and that. One day I woke up and I was like, "Oh my God. Is there any way to create a shimmer that has no color? But can be applied to any lipstick; Any eyeshadow; Any bronzer; Any blush and turn it into a shimmer from a matte?" And I was like, but I want it to kinda look like there's color when it catches the light. And I want it to also be able to be worn alone. And they're like, "Uhhhhh." And we made it and that's the color Alchemy.
Why did you pick the name Alchemy?
I named it Alchemy because alchemy is one of my favorite things — it's truly like magic. And when you see Alchemy on its own it's so beautiful. All of my friends have been calling me, they're like, "It's the only thing I wear….I literally just put it on my eyes and it's the only thing that I need." Because every product is made to go everywhere on the face. I just want to make it easier for all of us because our world is so cluttered with emails and texts and social media and the day never ends and when are our work hours? When aren't our work hours? When do they stop? There's no boundaries anymore with anything. I just want to make people's lives easier.
You also have a new baby clothing line coming out. What's special about this line?
My new baby line is with Gardner and the Gang, and I'm really excited about it. My first partnership was with Sapling, and then I got the call that Oprah was buying my baby clothes [to gift] and I was like, "WHAT?!…Oh my God this is so amazing!" So I partnered with this amazing woman named Kristin [Nystrom] and we created the first completely genderfluid baby and kids line that's really rad. Where the sweatshirts can be a dress or a sweatshirt. They're all in these awesome colors — I'm tired of all these rules like "Boys can't wear pink, girls can't wear blue." I'm all about self love and so, the title of the collection is "The Lion's Heart." So there's for instance, a cat and a dog holding paws, and there's a thought bubble that says, "Wuv You." And then we have these rad sweatshirts that say "Love You. Love You. Love You. Love You." And we created these really great baseball jackets that have half of the best friend heart on them (they're made for kids and adults — because all of my friends are like, "How do we get that?!") So we started creating more adult things as well. So you can wear it with your best friend, or wear it with your kid, or siblings can wear it… The whole collection is so beautiful and exquisite.
xx, The FabFitFun Team